UofL Health's new Foot and Ankle Center of Excellence will provide the latest innovations in orthopedic diagnosis, treatment, and aftercare to the region.
LOUISVILLE Orthopedic surgeon Victor Anciano, MD, has started his career at UofL Health – UofL Physicians on the right foot. Along with the UofL Health – Mary & Elizabeth Hospital team, Anciano and fellow orthopedic surgeon Todd Hockenbury, MD, helped lead the effort to garner approval for UofL Health as a Foot and Ankle Center of Excellence, which is quite an accomplishment. To earn this accreditation, a facility must be assessed by a national center of excellence organization, which evaluates and scores every aspect of care – from preoperative clinic evaluation to the anesthesia workup, to surgery and postoperative plans, including physical therapy and nutrition counseling. Surgeons, physicians, nurses, and staff from each of these teams worked together to secure the coveted status for the center, located within Mary & Elizabeth Hospital.
Originally from Caracas, Venezuela, Anciano came to the United States at the age of seventeen. After receiving a BA from Earlham College in Richmond, Indiana, he went to medical school at Harvard Medical School in Boston, Massachusetts. A residency in orthopedics at the University of Virginia, Charlottesville and a foot and ankle fellowship with OrthoCarolina in Charlotte, North Carolina, followed. At UofL Health, Anciano is not only an orthopedic surgeon but part of the physician team for UofL Cardinal Athletics and was recently appointed associate program director for the UofL orthopedic residency. He is also a gratis clinical professor for both the orthopedic residency and podiatry residency at UofL Health. He finds the ever-changing nature of the specialty particularly exciting. "I think of all the fields in orthopedics, foot and ankle is the one that still has the most unknowns. That's very attractive to me because there's a lot of research to be done and knowledge to explore. There's a lot left to understand; it's a very complex region of the body," says Anciano.
One recent development is the shift toward minimally invasive procedures. For example, prior bunion surgery required a large incision and resulted in a painful, long recovery with patients not being able to bear weight or wear shoes postoperatively for about six weeks. With the 0.5 cm percutaneous incisions made during the minimally invasive version, they are walking directly following surgery and, typically, back in shoes by the two to four-week mark.
Another interesting innovation in the wound care area is the expansion of xenografts. Xenografts are grafts that come from animals. Anciano has been studying grafting with fish skin. The grafts, made from sustainably caught Icelandic cod, seem to possess an antibiotic component in addition to providing a collagen matrix that promotes faster healing.
Anciano has also been pioneering fixation of certain fractures and joint fusions with non-metal screws. This is a newer technology that allows for the hardware to be incorporated within the bone resulting in fixation of the fracture/joint and no metal left behind after some time.
Along with championing the center, Anciano and Hockenbury, just launched an orthopedic foot and ankle fellowship. Anciano finds his new role as an instructor particularly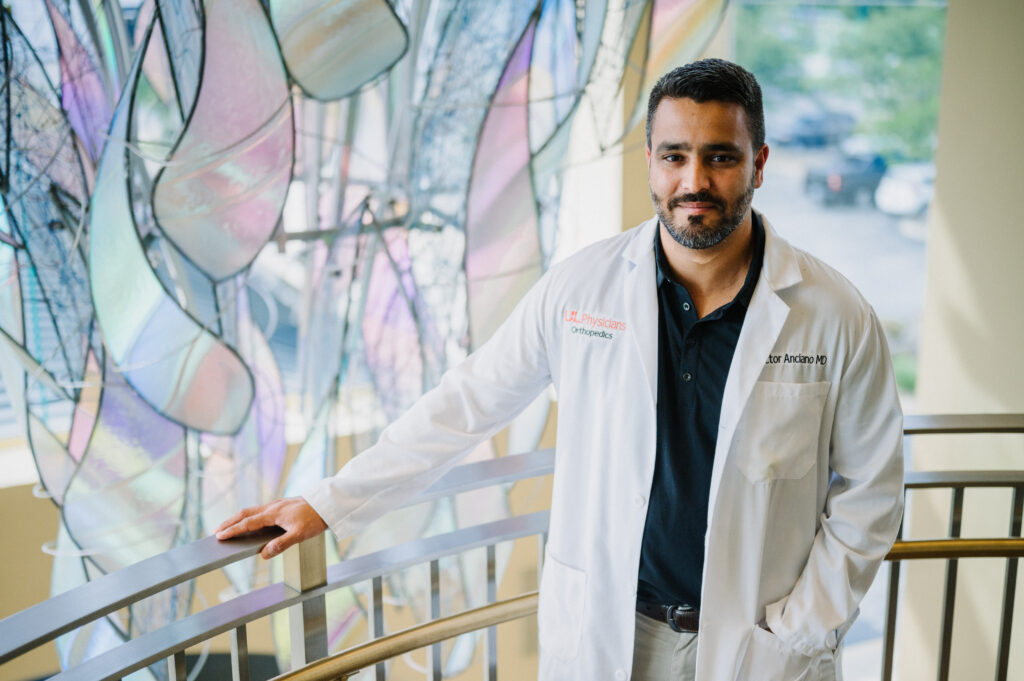 rewarding. He says, "Residents are constantly motivated and keep you young. They ask questions, make you keep up with the literature, and I appreciate that. The hunger of the mind is infectious."
From Athletes to Arthropathy
Anciano's week entails two operating days and three clinic days. Mondays are reserved for inpatient operations and Fridays for outpatient procedures. His three clinic days take place at three different locations: UofL Health – Mary & Elizabeth Hospital, Medical Center East, and Medical Center South. During this time, he cares for patients of all ages — from children with injuries to geriatrics with deteriorating joints. Anciano sees a wide range of pathology including acute injuries, chronic deformities, arthritis, bunions, diabetic foot problems, ankle replacements, and more.
With each patient, Anciano strives to gain a full understanding of their life prior to and their expectations after surgery. He states, "Everyone who comes in has a goal in life. Understanding patients and where they want to be with their day-to-day activities, sports, and social interests helps a lot to drive care."
Customizing Care for Athletes
Care for athletes varies greatly depending on their level of play, commitment to the sport, and their future plans. For example, a high school athlete who competes primarily for the camaraderie and enjoyment and only wants to make it successfully to the end of their senior season may merit less aggressive treatment than a college athlete who has every intention of making a career from their sport. Communication is key in formulating a surgical plan, and the discussion focuses on the future, with Anciano asking, "What are your long-term goals as an athlete?" He then decides how to best get them ready for the next game, the next season, and, in some cases, the next decade of competition. The answer may be surgery coupled with optimizing lifestyle choices and physical therapy.
Anciano is proud of the sports medicine team that has been built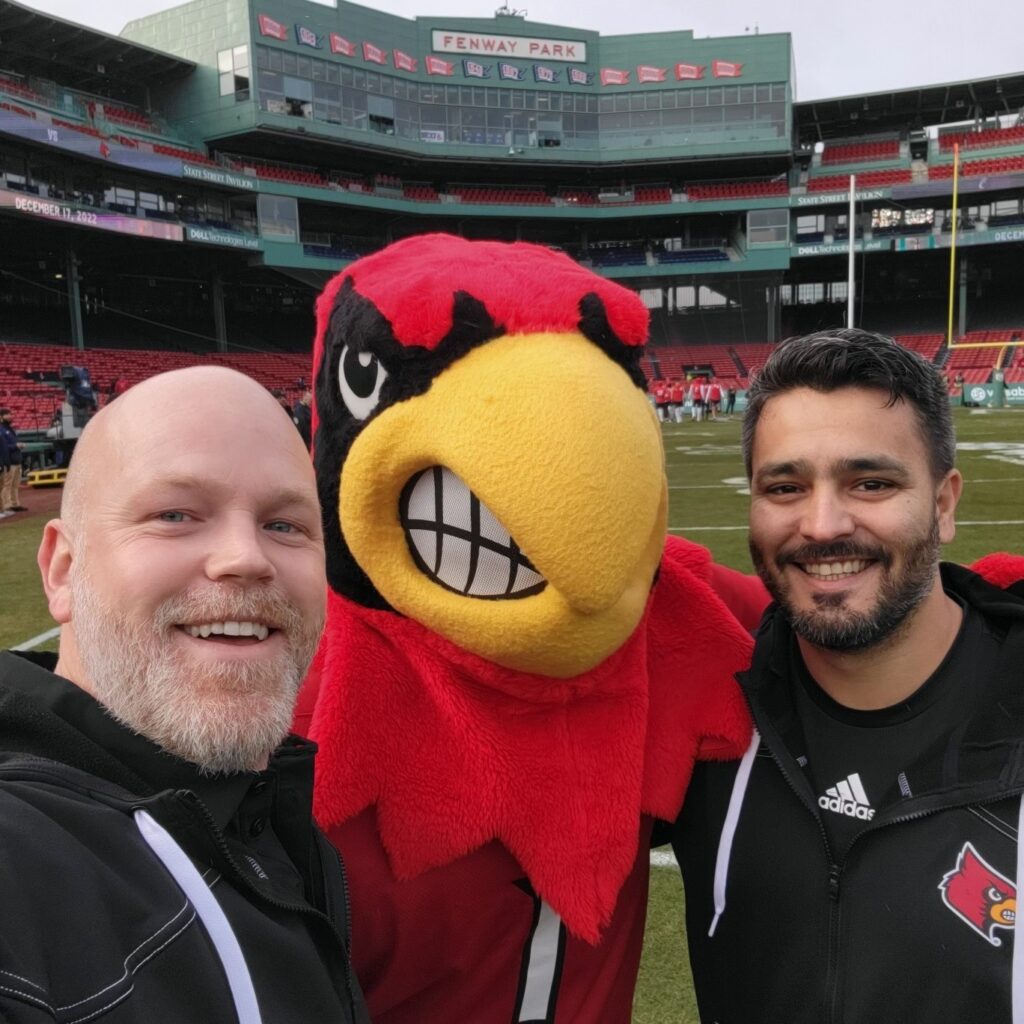 at UofL Health. Each of UofL's sports teams has access to a full range of medical care from the sports medicine team, orthopedic team, and athletic trainers. At the Cardinal Station clinic, orthopedics shares a space with sports medicine and family medicine, making it easier to have an open dialogue. According to Anciano, "UofL Health fosters an environment where it's very easy to approach each other, which at the end of the day is the best for the patient, because whenever there's lack of communication between providers, that's when things can end up falling through the cracks."
With weekend warriors, the conversation is more about everyday quality of life and what activities they need to be able to accomplish to feel fulfilled. "It comes in different flavors … to get back to running a weekend marathon, walks with the dogs, or family time. Whenever these injuries get in the way, then that's the conversations we have — how to make them and their life better," says Anciano.
Orthopedic Dangers of Diabetes
Diabetic patients, along with individuals with other systemic diseases, are perhaps the most complex sector of Anciano's patient population. Anciano believes one of the biggest misconceptions among non-orthopedists is that all foot and ankle pain originates in the foot and ankle. He points out that there are many conditions, including diabetes, cardiac and lung diseases, and lumbar radiculopathy that can cause edema, pain, or neuropathy in the foot. Therefore, it is often the orthopedic surgeon's mission to get to the real root of the problem. Anciano says, "The challenge comes in understanding that it's not just looking at the foot, but making sure the patient has the care they need for the other things that are going on in their life and with their health."
One of the most serious situations with diabetic patients is Charcot arthropathy. This advanced neuropathy leads to a loss of sensation that results in foot injuries and deformities that, left untreated, can lead to amputation. Diabetics who undergo a high-level amputation have approximately a 50% five-year mortality rate. Therefore, patient education, alongside Charcot reconstructive surgery, is crucial. Anciano stresses to these individuals that lifestyle changes and treatment compliance can mean the difference between losing a limb or not.
In closing, Anciano acknowledges that though foot and ankle surgeons are not normally in the business of saving lives, they do save the quality of life for their patients. In Anciano's words, "We (foot and ankle surgeons) very rarely deal with life and death issues, but we do save quality of life, and I think it's very important for people to have that … to be happy, to be healthy."