Why health care providers need to be advocates for good oral health
LEXINGTON Why is it in life we take so much for granted that so many people can't take at all. For example, right now maybe you're eating a sumptuous meal, just finished one or looking forward to that first bite. Savoring as you chew, tasting every herb and seasoning that went into its preparation, you have a mouthful of happiness.
And yet you would never stop to think over 50% of Kentuckians have permanent teeth extraction because of tooth decay or gum disease. Yes, half the state may have trouble taking the first bite, or any bite at all. Even worse, some may skip the meal altogether because they know one bite and the pain shoots through their mouth with a relentless surge that makes it better to go hungry than seek to resolve the problem.
But why? Health care is available, or is it? The answer is yes and no. It is available to those of us who have dental insurance, good jobs, family insurance plans, etc. But to those with permanent teeth extraction, not so much. And that is where my passion intersects with the crisis of our Kentucky, providing affordable, accessible health care for all residents in the Bluegrass.
Rural Kentuckians suffer from a lack of dental access, but racial and ethnically diverse populations suffer even more. Why? Many factors have contributed to the problem, including poverty, poor oral health knowledge by patients, racism, and lack of providers that accept Medicaid.
From an Early Age
Prior to becoming a physician, I launched my career in dentistry as a hygienist, but turned to medicine when I learned that I was a risky hire by a white dentist who worried his patients "may be prejudiced" and a black dentist who couldn't afford my salary. As a family physician, I was able to witness the value of consistent health care, but heartbroken over the lack of it, which led to edentulism as a result of negligence and the lack of dental health care. Kentucky has one of the highest rates of edentulism—60% of adults are edentulous by the age of 60.
Every day in this country roughly 30 million Americans of all ages go without health insurance (2021), which is 9.2% of the population (The Number of Americans without Health Insurance. moneygeek.com). Think about being at a fast-food drive through and almost one out of every ten cars would have a person without dental insurance.
Maybe by now you've put your fork down and really started to dive into this article, and I welcome your undivided attention. Simply put, we have a problem. We have the tools to change, and I have the concept. As Kentucky's Oral Health Champion, chosen by the Center for OH Integration in Primary Care, a grantsponsored position, my goal is to highlight the problems of oral health in Kentucky and curricula recognized through survey data given to Kentucky educators. University of Kentucky College of Medicine, University of Louisville School of Medicine, and Pikeville College of Osteopathic Medicine were chosen to take the survey. Each school was suggested to make changes in the curriculum based on their results and to make recommendations for those changes. If we all have the best interest of Kentuckians at the forefront, we can bring about change and reduce the embarrassment in rural Kentucky and the inner city by joining our dental colleagues to advocate for the importance of good oral health and access to dental care.
An Epidemic of Bad Oral Health
In 2016, there were nearly 45,000 new cases of cancer of the oral cavity and pharynx diagnosed in the United States and more than 10,000 deaths (cdc.gov). The five-year survival rate for these cancers is about 61 percent. The
"The mouth is part of the body. You're not healthy unless your mouth is healthy."
mortality rate from oral cancer is nearly three times as high in males as it is in females (4 vs 1.4 for every 100,000 people) and nearly twice as high in white and black populations as it is in Hispanic populations (2.6 vs. 1.5 for every 100,000 people). Preventing high risk behaviors, including cigarette, cigar, or pipe smoking, use of smokeless tobacco, and excessive use of alcohol, is critical to preventing oral cancers. Early detection is key to increasing the survival rate for these cancers.
Have you lost your appetite yet? Have you, like me, decided enough is enough? Do you feel like your fellow Kentuckians deserve better? Then my call to action is simple. Physicians, learn more about oral health and spend time educating your patients about the importance of oral health. A good resource is Smiles for Life, a nationally recognized online oral health curriculum found at www.Smiles for Life.org, which I developed in 2003 along with several other colleagues. Additionally, refer to your dental colleagues. For infants, it may be after the eruption of their first tooth.
Health care providers should be the oral health champions for those who can't open their mouth without pain and for those who have missing teeth due to either caries or gum disease.
What Can Doctors Do
As physicians we can decide to accept that the mouth is part of the body. It is our responsibility to help patients understand that "you're not healthy unless your mouth is healthy" as our then Surgeon General David Satcher said in the 2000 Surgeon General's Report on Oral Heath, in which he suggested that physicians, primarily primary care providers, improve their knowledge of oral health. Nothing can be truer as we begin to continue learning from research about the associations of oral health and overall health including diabetes, heart disease, and remote infections like the brain abscess responsible for killing twelve-year-old Demonte Driver from Maryland in 2007 when he couldn't access a dentist because of the lack of dental insurance.
Access to affordable dental care should be granted to every member of our great state. We are lagging far behind literally the entire country. We have to be like a determined Derby horse as they head down the stretch trying to find a way to get to the finish line despite the grim circumstances. We have to push hard to expand access to dental care. For children this would be improved grades in school and a better sense of self. For adults this might be improved diabetes, heart disease, and self-esteem.
In March we all gathered to root for our Kentucky Wildcats and any other Kentucky team that made it to the tournament. But there's another game we can win, and that's the one where we put a full court press on this oral health crisis. We don't let another neighbor, family member, or loved one, whether they be rural or in the inner city, go without oral health care. We must win the battle against a crisis that has resulted in too many deaths and permanent teeth loss.
So, enjoy your meal, maybe even a glass of wine, and ponder not only how you're going be part of the solution, but how you can influence your colleagues to do the same. If it takes a village to raise a child, and it's going to take our medical and oral health care village to be their oral health advocates. It's something we can all sink our teeth into, just like that meal you may be enjoying.
WANDA GONSALVES, MD, retired from academic medicine after twenty-five years where she held multiple positions as clinical faculty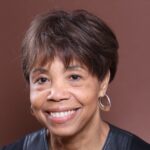 at two universities including the Medical University of South Carolina (MUSC) as associate dean for resident inclusion and diversity education, and at the University of Kentucky College of Medicine as vice chair in the department of family and community medicine. While at both medical schools, she helped students to reorganize a student-run free clinic, the UK Salvation Army Student Run Free Clinic and begin another student-run free clinic, the MUSC CARES clinic.
From 2019 to 2020, Dr. Gonsalves held the position of professor and interim dean of the College of Natural, Applied, and Health Sciences at Kentucky State University (KSU). Since September 2020, she is founding director of the Kentucky State Undergraduate Pre-Medical Academy, aka KUMA, which aims to increase the numbers of minority students who pursue careers in medicine, dentistry, or the physician assistant programs. Her mission is to mitigate shortages of well-trained minority students applying to health professional schools in order to improve health care disparities. At present, at least five students are preparing to apply to medical school. Twelve students are currently in the KUMA program.
Dr. Gonsalves' scholarly interests include service learning, interprofessional education, health disparities, and oral health for primary care clinicians. She has lectured on oral health topics nationally and locally. She is one of the coauthors for the award-winning Smiles for Life: A National Oral Health Curriculum (www.smilesforlifeoralhealth. org). Dr. Gonsalves has served on numerous boards including the Nicholas Pisacano Foundation, the Journal of the Academy of Physician Assistants, and the National Commission of Certification of Physician Assistants and Foundation.