A lens on the landscape of adolescent mental health
LEXINGTON There are shifts within our youthful population, and the trends demonstrate that things are indeed heating up. While climate change in the world outside is yet debated, there is another, parallel landscape in flux — the world inside the adolescent mind. Graph lines show perilous inclines and these rapidly shifting trends are incontrovertible. It appears both the doctor and statistics are in.
Nicole Goodin, MD, is board certified in adult and child and adolescent psychiatry. In the fall of 2022, she was welcomed at CHI Saint Joseph Health – Behavioral Health in Lexington where she was born and raised. This magna cum laude graduate received her Bachelor of Science in neuroscience from Furman University and her medical degree from the University of Kentucky College of Medicine. It was Cincinnati where she landed next, serving as distinguished triple board chief resident of child psychiatry at Cincinnati Children's Hospital Medical Center, while serving as on-duty psychiatrist at the Veterans Affairs Medical Center. Following a two-year stint at LifeStance Health in Frankfort, Goodin is again managing the seemingly unimaginable — the vast scope of mental health.
"The opportunity for me to discover underlying biological causes, manage medicines, and also practice as a patient's therapist, was the driving inspiration of my medical career," shares Goodin. "This approach permits me to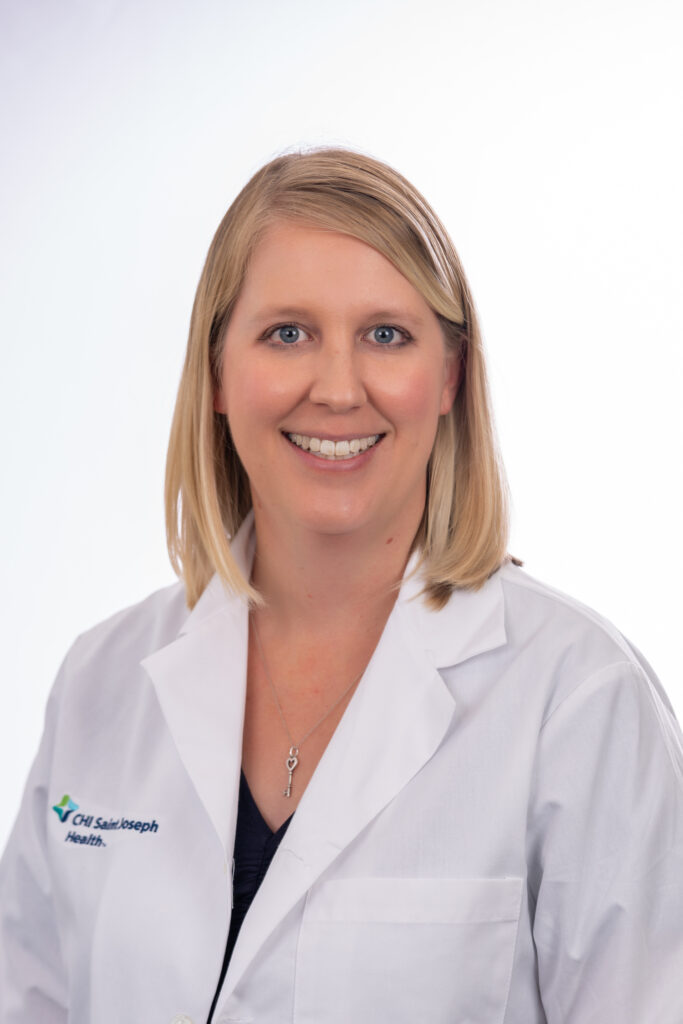 treat the whole person – body, mind and spirit. I bring focus to the basics of enough sleep and exercise." These things, central to her treatment plans, are medicinal in themselves.
The ever-changing realm of medications is one of her specialties, and the teen population, one niche. She also manages treatment for adults, however, in the current landscape, the challenges overwhelming our pained, youthful society are pervasive. "About 20-25% of the adolescents are presenting with struggles with anxiety and depression alone," she states emphatically. "The numbers are epidemic." While both genders may share levels of depressive severity and present with appetite changes, stress, irritability, and sleep disturbances, difficulties concentrating, and low energy, some symptomatology for young males and females with depression is disparate, and typically revealed between ages twelve and fourteen. "Girls exhibit sadness, guilt, punishment, and worthlessness. While boys also have sadness, their sadness is frequently expressed through anger," explains Goodin. Depression, suicidal thoughts, and difficulty experiencing positive emotions are also exhibited. Between the ages of thirteen and fifteen, symptoms will be twice as prevalent in girls than boys, and this differential will continue until the end of adolescence.
COVID and Social Fragmentation
Unseen in decades of psychiatric record, upticks in mental health issues are now being widely reported by Goodin and her contemporaries. Also reported is the consensus opinion that one major contributor to this mental health decline in our youth can be found in our shared experience of COVID-19.
"It turns out that the maintenance of interpersonal connection among adolescents requires constancy," states Goodin. So, too, the varied complexity of social skills acquired through those important connections, as well as the sense of emotional connectedness and mental cohesiveness engendered by those early, deeply valued bonds. The friendships they formed, nurtured, and reveled in while young began to suffer with the onset of the pandemic, and with them the carefree joy which has for so long typified the adolescent population. The loss of loved ones, the sudden interruption of school, and the decline of almost all direct social interaction coincides with the rise of the young and older teen mental health deterioration being managed by Goodin currently. We are watching the very fabric of their stability loosening.
Early Intervention and Trust
For those working within psychiatric circles, for increasing numbers of worried parents, and for these teens themselves, there is a clear and ever more present danger within the adolescent population. "Early intervention is crucial in avoiding further complications and future life-impacting events," says Goodin. "I discovered early that I really enjoy working with kids, and I derive enormous satisfaction from implementing my treatment plans, and then having the opportunity to observe their shifts back towards healthful balance. The resilience demonstrated within this youthful population is just extraordinary."
Goodin shares her process during initial encounters with the teens. "When I sit down for a first meeting with a young patient, I begin by asking low-risk questions. I want to start on a light note. I want to know who they are, and by increments gain their trust. Music can be important to this youthful demographic, so I might begin by asking about their favorite musicians and bands." Goodin shares the pervasive response to what top three fun activities they enjoy. "Videos, television shows, and music. That's what it is all about."
Social Media, Screens and Self-Worth
The unceasing screen use involved with this reality concerns this doctor of psychiatry greatly. Unmonitored 24-hour access is a stealthy thief, an accomplice ensuring a constancy of content that often contains the ignition for their mental health difficulties. Screen time exacerbates and promulgates their struggles, oftentimes involving night use. Goodin underscores the basics. "Their minds need the rest and regeneration resulting from uninterrupted sleep." Social media is one of the root causes for the widespread diminishment of self-esteem evident in both males and females today. Goodin becomes reflective here. "The posts shared by those both in and outside their social circle, create unintentionally false facades which are perceived as 'perfect, fun lives being lived' … lives and fun which are not always felt and perceived as shared by every teen seeing those images. Self-worth can be harmed. This is also the realm that spawns pernicious bullying." It is wreaking havoc on the hearts and minds of the young. This doctor of psychiatry has seen the outcomes of those who have been victimized.
The Adult Population and the Forces That Drive
Goodin is fascinated by the new options available that can help her adult patients. "These medicines cannot be used for children; moreover, there is a complexity of care for those older patients that is very interesting to me. I was a neuroscience major because the workings of the human mind captivated me. I have always wanted to know… 'Why do people do what they do?'" While a research assistant, she was involved in a significant project that involved analyzing the prevalence of ADHD in mild cognitive impairment and Alzheimer's patients.
Yes, the doctor is certainly in, and her fingers are on every pulse while teaching and presenting at conferences. Whether it is the pediatric, adolescent, or adult population sitting before her, it appears they have discovered a very accomplished doctor.