The UofL Health – Center for Women's Health is on the move
LOUISVILLE The UofL Health – Center for Women's Health is growing to meet the needs of underserved women in areas of Louisville's west and south ends and surrounding counties. The center is led by a dynamic and forward-thinking physician who wears many hats throughout the week like many department heads: clinician, surgeon, administrator, teacher, recruiter, coach, and father.
It is a mission that is fueled by his passion for his work, and the people and patients he works with and serves.
Sean Francis, MD, MBA, OB-GYN, was raised in the small hamlet of Roosevelt on Long Island, New York. How he made it to Louisville and UofL Health is a journey that continues to unfold.
Francis is the Donald E. Baxter endowed chair of the OB-GYN and Women's Health department at UofL Health. He is also an associate professor in urology, a full professor in OB-GYN and fellowship director of Urogynecology and Pelvic Surgery at the University of Louisville School of Medicine.
Francis left Long Island to attend Morehouse College for Men, an HBCU in Atlanta, which he says is where "I got it together and first believed that I could be a doctor." He received his medical degree from Case Western Reserve University School of Medicine in Cleveland in 1994 where he also did his internship, followed by residency at the Medical College of Georgia in OB-GYN. Then he took fellowship training in female pelvic medicine and reconstructive surgery at the Mayo Clinic in Scottsdale, Arizona. He was recruited to UofL Health in 2010 when they were looking for a department chief for OB-GYN.
Like many department heads, Francis continues to see patients and perform surgery, primarily laparoscopic and robotic, for urinary and fecal incontinence and pelvic prolapse. Remaining active in the OR keeps Francis in touch with the staff, faculty, and patients. "I think it's not only appreciated, but very helpful to me," he says.
The majority of his female patients are over 50 years old with pelvic floor issues, although some younger women who have just delivered babies can be his patients as well.
Teaching the Next Generation
As a faculty member at UofL School of Medicine Francis has a front-line view of the next generation of OB-GYN physicians. "They are much smarter and better informed then when I was a medical student," says Francis. "Their access to information is instantaneous and we have learned so much more about the human body in the last 20 years."
Francis recalls "the process" of getting coin change for the copier machine and going to the medical library to make photocopies of a few pages of a medical book. "Now medical students have all that information in the palm of their hands," he says, but that comes with a price. "Today's medical students are very aware of the world's expectations of them because there is so much more knowledge available to them."
"It's rare to find a male resident in OB-GYN. Almost all of the residents are female. OB-GYN has always been on the cutting-edge of diversity," says Francis.
UofL offers a three-year subspecialty fellowship program in urogynecology. Francis estimates that there are only 50 to 60 such programs in the country. "As an academic and research facility we get the more difficult and complex cases with presentations such as late stage prolapse or other comorbidities," he says.
A Journey Filled with Joy and Expectations
Francis had planned on a career as a cardiothoracic surgeon, OB-GYN never crossed his mind because he thought it was all about obstetrics. During his OB-GYN rotation however, his mind was completely changed when he saw female surgeons performing delicate and life-altering surgeries on women who were "happy and grateful patients," he says.
Now as department chair, he has additional responsibilities.
"When I became chair of the OB-GYN department I realized that I was charged with controlling a lot of money. I took the UofL MBA degree so that I would have the business background to do what I needed to do and use the resources entrusted to me wisely," says Francis.
While Francis practices downtown and at the Springs Medical Center with Stacy Lenger, MD, growing the footprint of the department is Francis' plan and goal, starting with offering OB-GYN services for more women in underserved areas in southern and western Louisville through the addition of the UofL Health – Center for Women's Health at UofL Health – Mary & Elizabeth Hospital, and by including surgery in Bullitt County. Across the street from the center, Mary & Elizabeth Hospital also plans to bring back labor and delivery services with a focus on midwifery.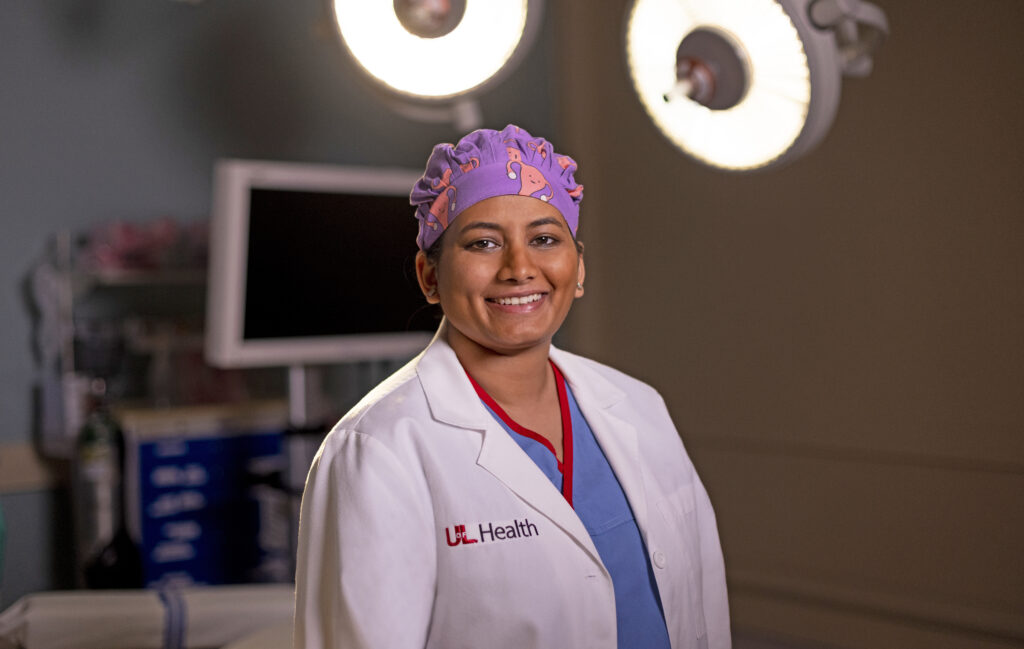 "Because I am academically focused, I want to make certain that everything we do is cutting-edge," says Francis. "I'd like to add a maternal-fetal medicine fellowship program." One example of cutting-edge technology that Francis and his team are using is minimally invasive neuro-modulation for over-active bladder (OAB) using a battery-powered, implantable stimulator. Francis notes that the batteries now last longer and there are none of the side effects such as dry mouth and constipation typical with OAB medications.
Employing telehealth is another example of using technology in creative situations. Though the in-person, physical exam is the gold-standard for OB-GYN care, in some instances Francis says that a telehealth visit can be effective, whenever the patient, or doctor, cannot be present. He recalls an instance when he used telehealth to consult with patients while he was home taking care of his own sick children. "I was able to talk with my patients from home, instead of not seeing them at all," he says. "It worked out."
Meet Ankita Gupta, MD, MPH
Growing up in Mumbai, India, Ankita Gupta, MD, MPH, knew early on that she wanted to work in women and children's health. She also wanted to work in public health to improve access to healthcare for underserved communities. To advance her goals, she first received her medical degree from Topiwala National Medical College & B.Y.L. Nair Hospital in Mumbai in 2012. Then she received her master's in public health (MPH) from the Harvard T.H. Chan School of Public Health in Boston in 2013.
During her OB-GYN residency at Crozer Chester Medical Center in Pennsylvania, she discovered her passion for urogynecology, which showed her a path to combining her goals: becoming a skilled surgeon to address debilitating gynecological issues and helping women deal with often neglected and under-represented health concerns. She followed this path to the University of Louisville for a clinical and research fellowship in female pelvic medicine and reconstructive surgery in 2017.
After a short stint in Chicago, she was happy to return to Louisville to start a gynecological center at Mary & Elizabeth Hospital, the UofL Health – Center for Women's Health. "We treat women who have problems that they are uncomfortable talking about such as urinary and fecal incontinence, pelvic organ prolapse, pelvic pain, bladder pain, and painful intercourse," says Gupta.
"My goal is to help my patient's quality of life get better, whether it is through medication or surgery or even lifestyle changes that they don't realize can have an impact on their symptoms," she says.
Advances in Urogynecology
Urogynecology is a relatively new field for addressing female health issues. Options for women's urologic and gynecologic health are increasing, and urogynecologists are telling women that there are options for treating the conditions that cause them problems. "They don't have to live with them. We have the ability and training to perform surgeries in multiple modalities such as vaginal surgery, laparoscopic or robotic surgeries. I aim to provide excellent surgical and nonsurgical treatments to optimize health and quality of life for women of all age groups," says Gupta.
In the past five years Gupta has been practicing in different locations, downtown Louisville, east Louisville and now southside. She states that she can see that access to healthcare is different. "Many of our patients at Mary & Elizabeth didn't seek care because they couldn't get downtown or to the eastside location." Offering urogynecologic services in the satellite locations has made a difference in these women's lives, says Gupta.
She even sees women traveling from Elizabethtown, Kentucky, and southern Indiana because it is easier than driving to downtown Louisville or the eastside location.
Gupta operates two days a week, see patients in clinic, conducts research, mentors fellows, and does outreach. She estimates that 40-50% of her patients are post-menopausal and treats them for incontinence. "We've been advocating for younger women who have incontinence to seek care, so they can be active."
"The most common surgery that I perform is for stress urinary incontinence. It's a 20 to 30-minute outpatient procedure that can make a dramatic change in a woman's life. I hear so often from women who say 'I wish I had known about this option 10 or 20 years ago. It would have changed my life.'"
"The great thing about my training at UofL is that I was trained in all three different surgical modalities: vaginal surgery, laparoscopic, and robotic, so I can comfortably tailor my surgical practice to meet the goals of my patients," says Gupta.
Before her first consultation with her patients and to establish a trusting and understanding relationship, patients are asked to complete a patient questionnaire. This asks about issues that patients may not be comfortable talking about, but they may be comfortable checking a box. Then she reviews the questionnaire and can ask them about their complaints.
"Sometimes allergy season will cause a woman to cough more and when she coughs, she has urinary incontinence. I had one patient who developed bronchitis from her allergies and whenever she coughed, she leaked. That was the trigger that made her seek help for her incontinence," says Gupta.
Working with Underserved Communities
Under Francis's direction, the UofL Health – Center for Women's Health brings together OB-GYN providers, midwives, urogynecologists, gynecologic oncologists, and nurse practitioners. Notes Gupta, "We work as a team within the Center for Women's Health. We collaborate. Our goal is to improve women's health in the community. I'm very passionate about my patients and tailor my practice to my patient's goals."
Speaking of goals, Gupta and her husband have the goal of visiting all 50 of the United States. Spending the night in the state is their definition of "visiting." So far, they have visited 39 states, including Hawaii. They still need to visit the upper western plain states and some of the southwest.