Joseph Neimat, MD, chairman of UofL Health – Restorative Neuroscience focuses on restoration, research, and residency training.
LOUISVILLE For Joseph Neimat, MD, MS, MBA, choosing the specialty of neurosurgery was a no-brainer. "Neuroscience is still a burgeoning field. There is so much that we're just beginning to understand about how the brain works," he explains. "The fascinating part of neurosurgery is that you get to observe the brain firsthand and help restore its function or remove an impediment to function. It's a tremendous privilege to do that."
Taking on the role of chairman of the department of neurological surgery at the University of Louisville (UofL) required deeper consideration. Neimat was hesitant to leave his position at Vanderbilt Neurosurgery. During his decade there, the program had grown into the largest DBS (deep brain stimulation) center in the nation. But, after delving deeper into UofL, he saw the building blocks for a tremendous program that combined research and clinical practice: "When I came to Louisville in person, I was tremendously impressed by the attitude the people in this department had regarding the translation of basic research into clinical scenarios.
Rehabilitation and Research: Side by Side
When Neimat took the helm in March of 2016, one of his first orders of business was to find a name that accurately represented the work of the team. He started by considering the various factions within the department and their goal; each shared the common mission of trying to restore the brain. Neimat said, "Our goal is to restore function and to restore people to what they were before their disease." Thus, UofL Health – Restorative Neuroscience was born.
There, on the 15th floor of the UofL Health – Frazier Rehabilitation Institute, neurosurgeons, researchers, basic scientists, and residents work side by side. This proximity encourages interactions that might not normally occur and offers an opportunity to "cross the cultural divide between researchers and clinicians."
To this end, as chair, Neimat wears many hats. His week consists of performing a variety of operations and DBS surgeries, seeing patients in the clinic, heading up business and finance meetings, attending case conferences, leading grand rounds, teaching lectures, and co-directing an NIH-funded lab, where he reviews data and guides ongoing projects. Significant time and energy also go into training future neurosurgeons through UofL's residency program.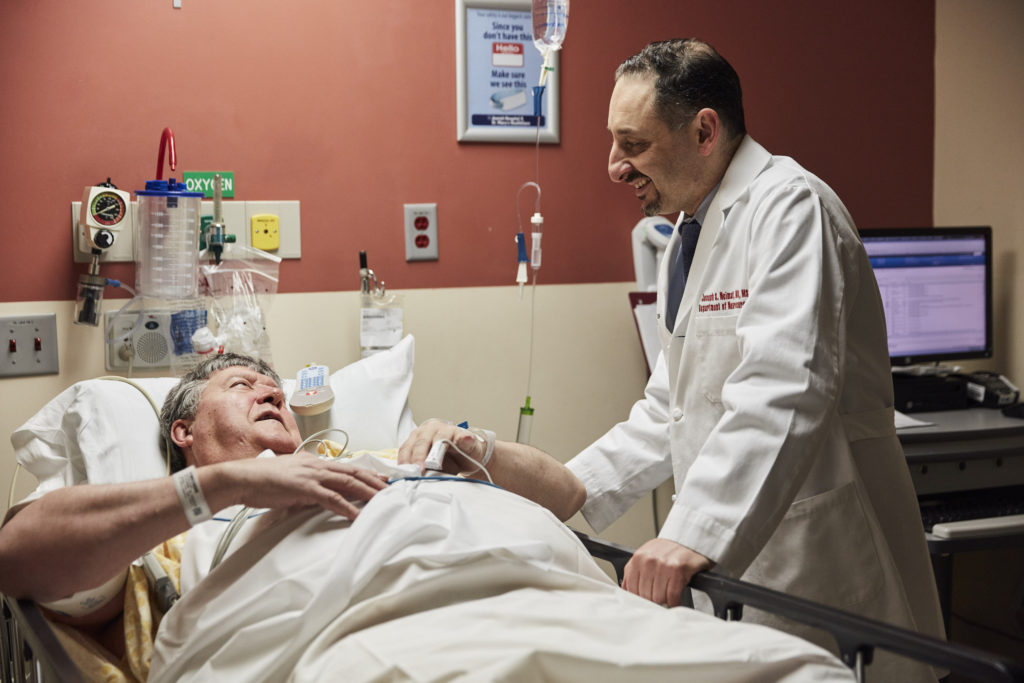 Residents: The Future of the Field
When Neimat first joined the department, it was down to five residents. Now, 14 residents and several fellows are receiving top-notch training, with many passing on their knowledge by giving podium presentations at two yearly neurological meetings. This growth is a source of pride for Neimat. He states, "It's been tremendously important to me to give residents and fellows a very thorough foundation so that they understand everything from fundamental neuroanatomy to the most innovative new therapies and where the field is going. I, and all of my faculty, spend a lot of time thinking and working toward that. And in the end, that really is the future of our field."
As for Neimat's own education, he began undergraduate studies at Dartmouth University in New Hampshire as a music major but quickly realized his natural talents lay in the sciences. He says, "Science came easy; music did not. I was not a very talented musician. As I went through my college experience, I realized science was where I would be making my contribution."
Upon completing his bachelors, he went on to Duke University School of Medicine in Durham, North Carolina where he completed his medical degree as well as a masters in neurobiology. Neimat found the mysteries of the brain intriguing and was drawn to surgery but had his misgivings.
Having grown up with a surgeon as a father, he was all too aware of the demands of that lifestyle. Then, during his second-year neurosurgery rotation, everything changed. He explains, "It was so exciting…so just absolutely fascinating. I remember one of the first cases I saw was an awake craniotomy. The scalp is numbed, so patients don't feel the surgery, then you open the skull and wake them up in order to remove a brain tumor or part of the brain that is having seizures. And that was such a fascinating experience to be talking to somebody and watching their brain, which is in effect talking to you at the same time. I just got sucked in. After that, my mind was made up."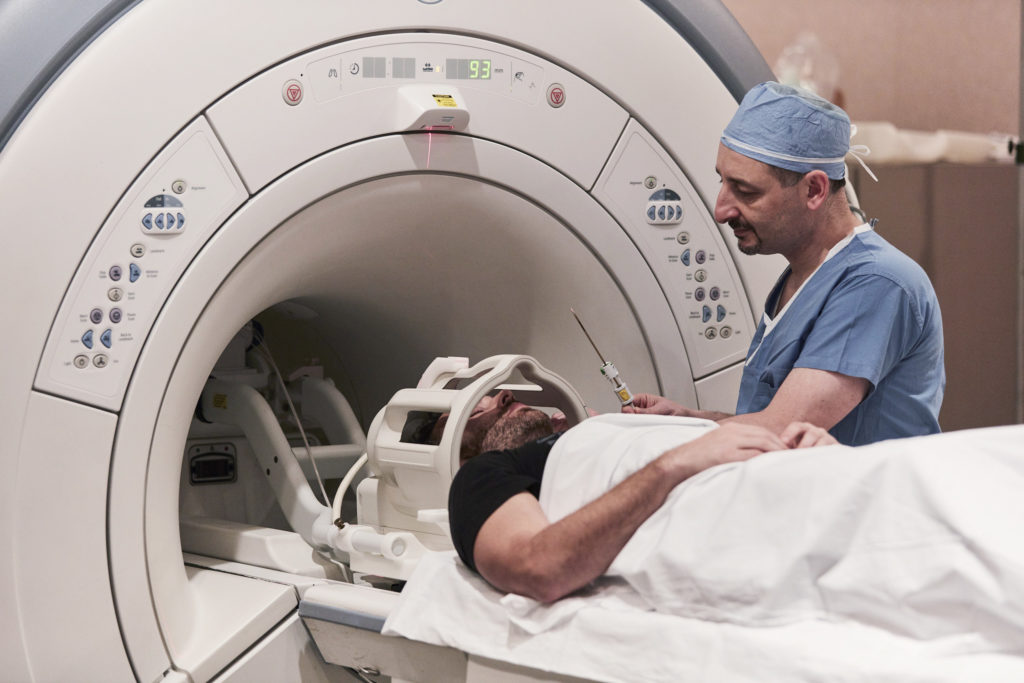 Neimat then completed his residency and an internship at Massachusetts General Hospital, a Harvard program in Boston where he served as chief resident of neurosurgery. A fellowship at the University of Toronto in functional neurosurgery, which combines brain stimulators and other procedures in an aim to improve or restore brain function, followed.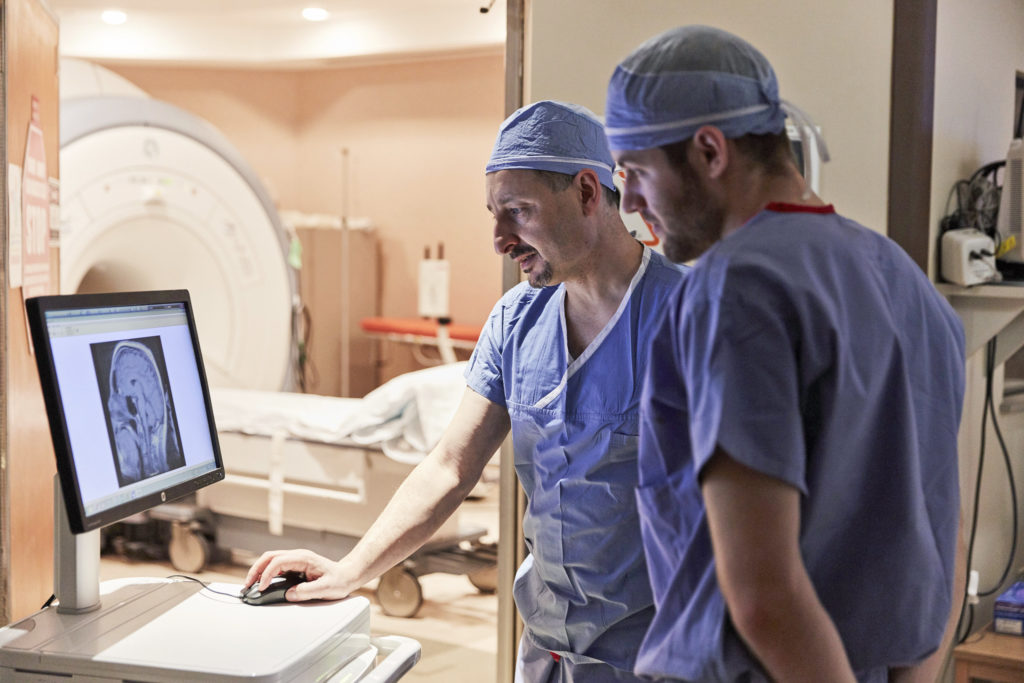 Technology Offers New Solutions to Old Problems
Now, as a practicing surgeon, Neimat specializes in treating epilepsy and movement disorders using the latest technologies and techniques. Neimat explains, "Traditionally, the simplest paradigm is to have patients come in for their epilepsy and you put electrodes in the brain. We keep them here in the hospital with wires coming out of the head, and connect them to a machine that is reading the seizures. And, when we figure out where the seizures are coming from, we go back and remove the seizure focus."
He continued, "But more recently, we have devices that are implanted, so we can put in electrodes that stay and both record and stimulate. So, the electrodes tell you how often a patient has a seizure and when those seizures occurred. They can also be used as a kind of defibrillator to stop the seizure after it has started."
Many of his patients have suffered with seizures for years and tried multiple treatments prior to finding their way to UofL Health.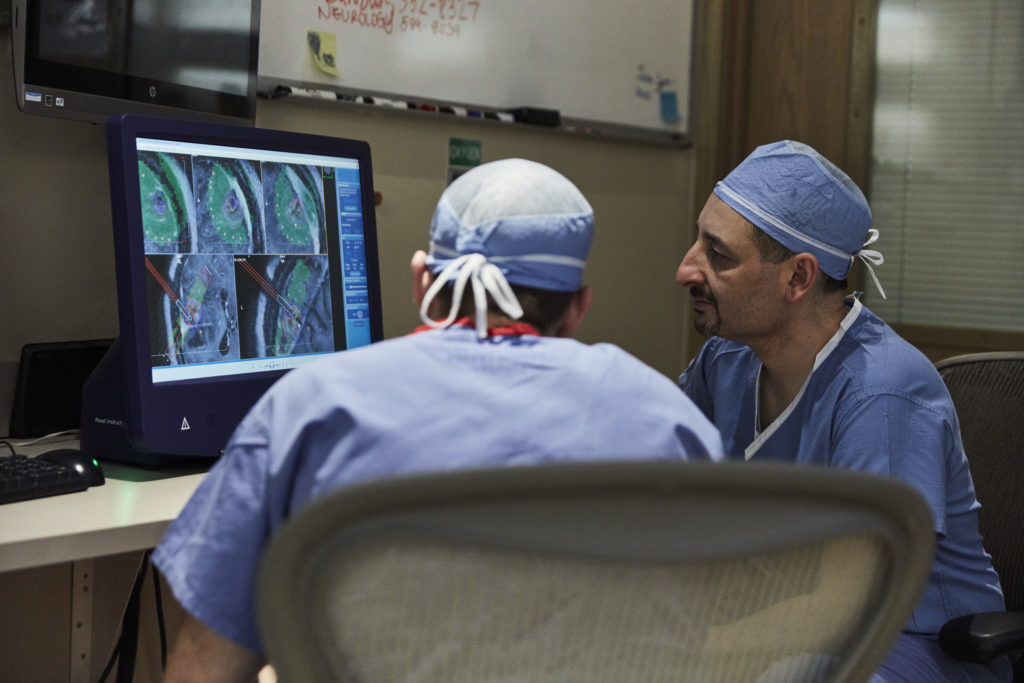 For example, the prior year, he saw a patient that had been treated at another center and equipped with electrodes but was still having seizures. Neimat and his colleagues reopened the skull and placed more than 160 electrodes on the brain to pinpoint the origin of the seizures. They identified that the source was in the temporal lobe near the language center. He was able to map out the language center precisely so that it was left intact while the offending portion was removed. In addition, he placed responsive stimulation electrodes on the language center to detect and treat if a seizure did occur there. He referred to this as a "belt and suspenders" approach. The patient has been seizure-free since.
According to Neimat, "What I enjoy most are the challenging patients who have defied treatment in other places, and we're getting them here for something unique or different or hard to treat. I enjoy those challenges, those puzzles, to hopefully make progress when other people struggled."
Advancements in technologies, like neuromodulation, have improved the field exponentially. Spine surgery is now being done robotically. Cranial surgery has been impacted by the frameless guidance systems that use remote technology to show surgeons exactly where they are in the brain. Aneurysm surgeries, which once required opening the head, can now be done with coils inserted through the blood vessels.
Despite the progress within the field, there are still misconceptions even within the medical community. According to Neimat, "I think among patients and perhaps some physicians there is a feeling that neurosurgery is dangerous and must only be done as a last resort. There was probably a time when that was true, but today neurosurgery is tremendously safe." He stresses that for many patients established neurosurgeries come with very little risk and high success rates and can offer life-changing results.
And, in the end, that is what it is all about— improving the lives of patients: "Today, in clinic, I saw a patient on whom we had done a surgery for epilepsy. It was a complicated surgery where we had to map out the location of the seizures. And we've been able to stop those seizures. That's a significant restoration for somebody who before couldn't drive, couldn't work many jobs, couldn't do things, and was always uncertain about when they might have the next seizure. That really is a form of restoration. And that is very gratifying."