Pulmonologist Hawa Edriss, MD, is working to improve lung cancer survival rates in the Bluegrass State through early screening and streamlined treatment.
LEXINGTON Kentucky is known as both the horse racing capital and bourbon capital of the United States. Unfortunately, our state holds the undesirable ranking as the lung cancer capital as well. According to the CDC, of all fifty states, Kentucky has the highest incidence of and mortality from this disease. In 2021, the rate of new lung cancer cases was 89/100,000; the average national rate is 58/100,000. In response, this July, Governor Andy Beshear signed House Bill 219, establishing a statewide lung cancer screening program in the Kentucky Department for Public Health to aid in early detection.
As a pulmonary and critical care specialist with CHI Saint Joseph Health – Pulmonology and Critical Care Medicine, Hawa Edriss, MD, is on the front lines of the fight. She says, "I always wanted to be part of a change. I'm very, very interested in lung cancer and improving survival rates and improving delivery of care."
One of the primary issues with lung cancer care in Kentucky is late detection. According to Edriss, "Unfortunately, the most common presentation is late stage—Stage 3 and even more often Stage 4, because lung cancer is asymptomatic; it becomes symptomatic at Stage 4. With Stage 1 lung cancer, approximately 90% of patients can expect to live at least five years following their diagnosis, so early screening is key."
Edriss is especially proud of the CHI Saint Joseph Health lung care program, which takes a multidisciplinary approach to cancer care. It is headed by a lung cancer nurse-navigator whose sole job is to coordinate and streamline the care of patients with suspicious lung scans. After a pulmonary screening, if the navigator sees any cause for concern as identified in the scan reports by a CHI radiologist, the patient's results are turned over to a board of pulmonologists, oncologists, interventional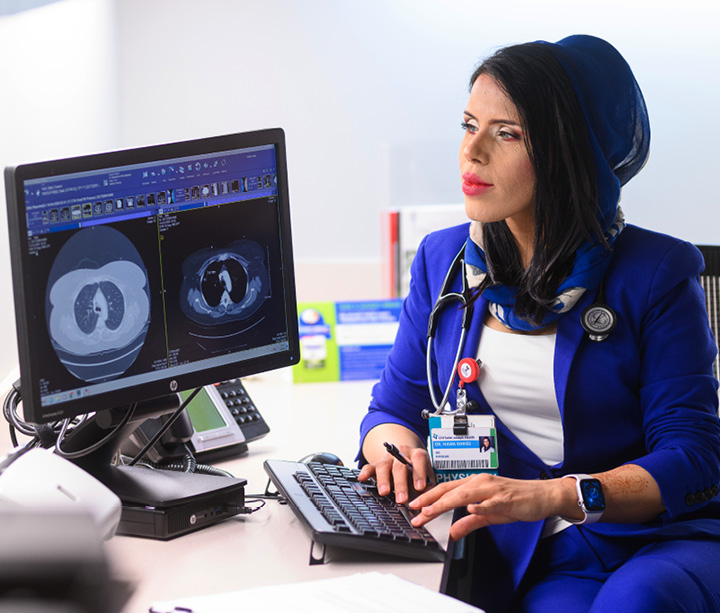 radiologists, and surgeons who meet weekly to discuss cases and implement treatment plans. Edriss has been sitting on the board for three years. She says, "The benefit of this program is to expedite patient care and avoid any delay in a time-sensitive condition. For these patients, specifically those who are at risk for cancer, we get them scheduled within a week, sometimes the next day, to receive highly specialized care. I think this program is amazing."
An Unlikely Route to Lexington
Edriss joined CHI Saint Joseph Health – Pulmonology and Critical Care Medical Group, a part of CommonSpirit Health, in 2018. Before, she received her Doctor of Medicine from Al Margeb University Faculty of Medicine in her native country of Libya, but kept her eye on an education in the U.S. Edriss explains, "Libya is one of the developing countries. I always wanted to continue my training in a developed country and I knew America was the top for medical education and innovation. Luckily, I received scholarships while in medical school." After moving to the U.S., she garnered a prestigious Master of Science in Clinical Research from Rush University Medical Center in Chicago, followed with a residency and fellowship at Texas Tech University Health Science Center in Lubbock, Texas.
Initially, Edriss was focused on becoming a cardiologist, but during residency rotations, she was introduced to her current specialty by Kenneth Nugent, MD, the pulmonary and critical care program director at Texas Tech, who became her mentor and guided her interest in research. "Our research and scholarly articles have been cited more than 700 times; these papers discuss both pulmonary and ICU diseases." She loved the range of care the field provided: "In critical care, you see acutely ill patients that you work really hard with, and then, after two days, see dramatic changes. With pulmonary patients, you deliver care and get the chance to follow them for years and see long-term change. With pulmonary, you deliver a wide spectrum of service, including preventive medicine, and get to communicate and know the family well. You also get to do a lot of different interventional procedures, such as bronchoscopies."
During a typical week, Edriss will spend up to 50-60% of her time in inpatient ICU consultations, evaluating and treating patients and performing procedures, such as intubation to place critically ill patients on mechanical ventilation, central venous catheterization, arterial lines, chest tubes, and bronchoscopies. The rest of her time is spent focusing on pulmonology, both inpatient and outpatient clinics, analyzing scans, and performing an average of 1-3 bronchoscopies a day. She sees all adult pulmonary consultations; her average patient population is over 50, with some patients being 90 and up.
Though Edriss is now an integral part of CHI Saint Joseph Health – Pulmonology and Critical Care Medicine, practicing in the U.S., much less Kentucky, was not her initial plan. After completing her education, Edriss planned to return home to Libya. "I honestly thought I would do some training and go back. But I feel that we never finish our training; we continue to grow and we continue to learn and there's always more training, more innovation, and more technology. So, I decided to stay."
Higher Smoking Merits Earlier Screening
While in fellowship reviewing lung cancer slides, Edriss met a pathologist who was a native of Kentucky and learned about the Appalachian region and how vast the underserved population is in certain rural communities. This piqued her interest in the area. "I wanted to come here because of underserved communities with high smoking risk and therefore high cancer risk."
A shocking 25-30% of Kentuckians smoke; according to Edriss, "Smoking is the number one risk factor for lung cancer; cigarette smoking is linked to 90% of lung cancer." Due to this statistic, the U.S. Preventative Service Task Force (USPSTF) has updated screening guidelines. The guideline now recommends lung cancer screening for adults aged 50 to 80 years who have a 20-pack-year smoking history or more which "is calculated by multiplying the numbers of packs of cigarettes smoked per day by the number of years the person has smoked." For example, 1 pack-year is equal to smoking 1 pack per day for 1 year or 2 packs per day for half a year. This includes current smokers as well as those who have smoked that amount and quit in the past 15 years.
As for screening, Edriss has two pearls for primary care physicians. First, even if a patient is asymptomatic but falls within the criteria, set up a screening. Second, educate yourself on the basics to know when to reach out to a specialist. She urges, "Know features, criteria, and risk factors to know what needs intervention and what does not need intervention, but requires observation. And if you are confused or if it's concerning, refer to a pulmonologist."
She points out that many reach out first to an oncologist, but a pulmonologist should be the first call, as it is their job to review scans, perform biopsies, and determine malignancies. Most importantly, always remember, early identification is associated with increased survival, so when in doubt, screen and scan.