FRANKFORT While lung cancer is a daunting disease, early detection, new technologies, and therapies means survivability is increasing all the time. A key factor to increasing survivability is catching masses before they spread and metastasize. New guidelines from the US Preventive Task Force and a new program established at the Kentucky Department for Public Health will both work to increase lung cancer screening and reducing mortality.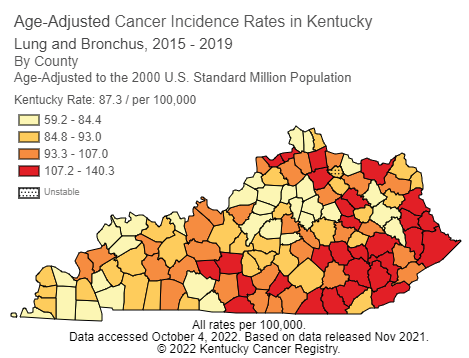 Based on Kentucky's smoking rates, over 600,000 Kentuckians are eligible for lung cancer screening – but only 15% are actually getting screened. Screening is important because the five year survivor rate for local lung cancers is 54%, compared to 5% at late stage or distant lung cancers. The evidence is clear that screening and early detection cause a clear increase in survivorship.
The majority of lung cancer cases are caused by tobacco smoking, including cigarettes, cigars and pipes. Radon gas is the second leading cause of lung cancer and multiplies the risk of cancer when combined with tobacco smoke. Kentucky has very high rates of radon, a clear, odorless radioactive gas commonly found in limestone bedrock.
The US Preventive Task Force Services recommends that anyone between the ages of 50 and 80, who has a 20-year pack smoking history and is currently smoking or has quit within the past 15 years should be screened for lung cancer using a low-dose CT scan (LDCT scan). Pack-years can be calculated by multiplying the number of packs of cigarettes smoked per day by number of years the person has smoked. Eligible patients should be screened on an annual basis to monitor potential lung cancer lesions.
Kentucky has almost forty lung cancer screening centers recognized as Centers of Excellence.
These Centers meet high-quality requirements by the American College of Radiology, the National Comprehensive Cancer Network and the International Early Lung Cancer Action Program, which include shared decision-making, comply with best practices for screening, and communication protocols between health care providers. Kentucky Screening Centers of Excellence can be found at https://go2foundation.org.
Health care providers should have open and honest dialogues with patients about the benefits and risks of lung cancer screening. It's important that patients realize that early detection significantly increases their odds of long turn survivorship. Patients may not realize that lung cancer screening should be annual, just like an annual checkup. For patients who are still using tobacco products, motivational interviewing and using the 5A's may assist your patient to quit. At any point, quitting tobacco usage will be a benefit to their long-term health. There are two primary risks to lung cancer screening with a LDCT scan.
The first is that false-positives may lead to invasive medical treatments that are not needed. Sometimes the wisest course of action is to monitor a suspicious spot on the lungs, which can be emotionally and mentally difficult for the patient and their family.
 The second risk is that LDCT scans do expose patients to radiation and should only be used if medically necessary. For someone who meets eligibility guidelines for screening, the risks of LDCT are much less than the risks of untreated lung cancer.
Realizing the high burden of lung cancer in Kentucky, the legislature and Governor passed HB 219 in the 2022 legislative session. The Margaret M. Poore Lung Cancer Act, named for Rep. Kim Moser's mother, establishes a Lung Cancer Screening Program at the Kentucky Department for Public Health and an Advisory Committee charged with ensuring the program has the data needed for health care providers to make evidence-based decisions. The program will strive to increase lung cancer screening in the state through partnerships with health care providers, health care systems and through patient education.
No one wants a lung cancer diagnosis, but with significant medical advances there is hope. Together we can screen appropriate patients and catch cancer early to reduce death.
For more information about the lung cancer screening program or the advisory committee, email LungCancer@ky.gov. To find the nearest lung cancer screening centers to you, go to the American College of Radiology finder at: Accredited Facility Search (acraccreditation.org).
---
Elizabeth Anderson-Hoagland is the supervisor in the Health Promotion Section at the Kentucky Department for Public Health. She was a policy analyst with the Kentucky Tobacco Prevention and Cessation Program for seven years. As part of her position, she focuses on a variety of issues related to youth tobacco use, including 100% Tobacco Free School policies and TRUST, a tobacco retailer underage sales training initiative.