Legendary practice Kleinert Kutz continues the training, surgery, and legacy of its founders.
LOUISVILLE/ LEXINGTON/ NEW ALBANY When a brand name like Xerox, Kleenex, Velcro or Google becomes so common that it is synonymous with the product or service itself, that's called "genericization."
Some celebrities and sport figures also rise to the level where one name is enough to encapsulate a unique legacy. Think LeBron, Jordan, Magic, Rupp. Or Elvis, Cher, Disney.
Jordan, Magic, Rupp. Or Elvis, Cher, Disney. It's not often that doctors reach that stature of brand recognition, but it's fair to say the name Kleinert Kutz approximates that level of achievement when the names are synonymous with hand and upper extremity surgery, innovation, and advanced fellowship training in hand microsurgery.
The legacy medical practice that Harold Kleinert, MD, and Joseph Kutz, MD, began in Louisville in 1964 continues today and has spread through three generations and around the globe, signifying "world class hand care."
According to its website, Kleinert Kutz Hand Care Center is the largest and oldest hand surgery practice in the United States. Over 1,400 fellows from 58 countries have trained through the Christine M. Kleinert Institute (CMKI), a "nonprofit education and research organization dedicated to excellence in education and research in hand and microsurgery." CMKI president Tuna Ozyurekoglu, MD, says, "Kleinert Kutz has touched the lives of countless surgeons from all over the world. The power of our institute comes from the principles set forth by Dr. Harold E. Kleinert, which requires the students surpass their teachers."
"Dr. Kleinert pioneered many 'firsts,' including the Zone II flexor tendon repair," shared Huey Tien, MD. "He established techniques for those injuries that have been built upon by the team as the years have gone by."
Meet the Kleinert Kutz Surgeons
MARGARAET NAPOLITANO, MD, FACS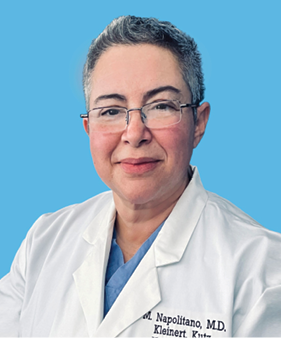 Margaret Napolitano, MD, FACS, was born in Hollywood, Florida and attended Barry University in Miami and the University of Florida medical school. She did her general surgery residency at Saint Louis University in Missouri then returned to the University of Florida for a microsurgery and plastic surgery fellowship. She completed her fellowship training at CMKI and remained as a member of the staff.
"I was drawn to plastic and hand surgery because it allows me to work on a variety of structures such as bone, tendons, nerves, and blood vessels," says Napolitano. Her patients are adults and children of all ages. She works in the satellite Lexington office and credits her staff and Wesley Lykins, PA, for expediting same-day care, especially for emergency hand surgeries.
"Wesley has an extensive background in several surgical specialties including orthopedics. He possesses a strong skill set and understands what types of injuries can be temporized and those injuries that cannot wait for surgery days later," says Napolitano.
HUEY Y. TIEN, MD, FACS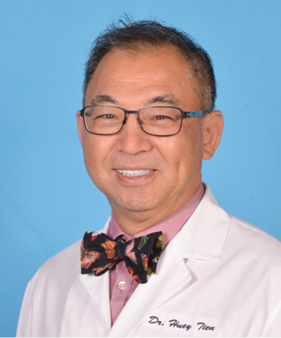 Huey Y. Tien, MD, FACS, is from Taipei, Taiwan and comes from a large family of doctors. He graduated from Chung Shan Medical University in Taiwan and completed orthopedic residency there. He did his clinical hand surgery fellowship at CMKI and an additional general surgery residency at UofL School of Medicine.
Tien recalls that during childhood, a neighbor had a prosthesis for his amputated arm. "He always showed me what he could and could not do due to amputation and what he needed to do to accommodate it. It drew my interest in how amazing a simple-looking hand could do and how much we lose without it."
Tien sees the common presentations of nerve, joint, and vascular irregularities, but he has also had very challenging patients with rapid progression of loss of arm function without any known causes.
Advancement in arthritis and painful neuromas treatment is the future of the specialty, Tien believes, and he encourages other orthopedics or family practice doctors to refer patients. "We treat all conditions, from neck to fingertips, and we do more than people think we can do."
TUNA OZYUREKOGLU, MD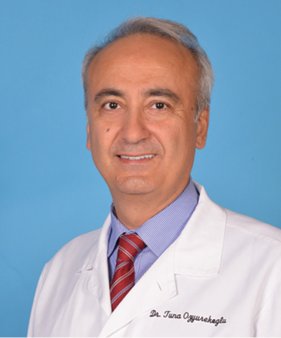 Born in Tarsus but growing up in Adana, Turkey, Dr. Tuna, as his peers and patients call him, was influenced by his uncle, a physician. He attended the top medical school in Ankara, the Hacettepe University School of Medicine, where classes were taught in English for the sixyear degree which included internship. He says he learned early on of "the value of speaking well, being good at what you do, having good relationships with your peers."
"I was mesmerized with the tendon transfers lecture for polio during my rotation in orthopedics. I loved the fact that there was a lot of action, and it did not sound like classic medicine or surgery. I felt happy; you fix people and you see the results immediately," recalls Ozyurekoglu.
While doing his residency in Denmark for his hand surgery rotation, he learned about the CMKI fellowship program "And that's how I first heard of Louisville," he says.
Ozyurekoglu's patients commonly present with carpal tunnel, trigger finger, and arthritis of the thumb, fingers, wrist, and elbow. His areas of focus are rheumatoid arthritis, Ehlers-Danlos syndrome, and wrist and elbow ligament injuries.
"Arthroscopy and endoscopy advanced my patient care significantly because they allow for minimally invasive procedures," says Ozyurekoglu. "Mechanical hands and haptics, technology that stimulates senses of touch and motion, are advancing hand surgery and will be the ultimate treatment for amputations."
"I treat my patients with respect and love. I inform them as much as possible, but I feel it's my duty to guide them to the best treatment for themselves."
RODRIGO MORENO, MD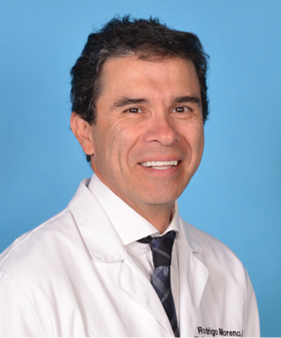 Rodrigo Moreno, MD, grew up in Bogota, Columbia, in a family of doctors with his father, a brother, and a sister being physicians and his mother and another sister as psychologists. He graduated from Colegio San Carlos, an American high school founded by Benedictine monks from North Dakota. He then received his medical degree and did his orthopedic residency at the Colombian School of Medicine at Bosque University including an exchange of clerkships in orthopedics and ophthalmology at Massachusetts General Hospital in Boston. He then entered CMKI for hand & microsurgery. He was drawn to the specialty because "We have to manage soft tissue, skeletal, and neurovascular pathology. Hand anatomy is very complex, and returning the function of it is a challenge."
Moreno's typical patient presentations are humerus, forearm, distal radius, and hand fractures, elbow pathology, wrist instabilities, carpometacarpal and carpal osteoarthritis, carpal tunnel syndrome, trigger finger, and nerve entrapment pathology of the upper extremity. Uncommon cases include thumb hypoplasia, absent thumbs due to congenital or traumatic conditions, malunion of distal radius fractures, and non-union of scaphoid.
Looking ahead, Moreno says, "Scarring around flexor tendon repairs is a problem in micro hand surgery. Further research and development of a treatment to diminish scarring while at the same time letting the tendon heal in normal timing will have a significant impact."
When treating his patients, he recalls what his mentor, Dr. Kleinert, taught him: "Be available, be affable, and be able to help those who are in need of hand and upper extremity pathology."
SUNIL THIRKANNAD, MD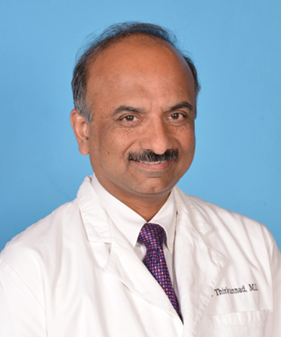 Sunil Thirkannad, MD, grew up in Bangalore, India, where an uncle and a cousin were doctors and the rest of his family were scientists and engineers.
He received his medical degree at the Bangalore Medical College, India. He is double board certified, with a masters in orthopedic surgery and a National Board Diploma from India. Additionally, he has two fellowships in hand surgery, one from the National University of Singapore and another from CMKI at UofL.
A servant's heart is at the core of Thirkannad's mission to bring his surgical skills to patients in need. When he was a young doctor in India, hand injuries typically happened to the working poor in factories and on farms. According to Thirkannad, access to competent plastic surgery for the poor and uninsured was minimal, at best. "I taught myself hand surgery, because there was no formal fellowship in hand surgery in India at the time. From 1998 to 2003, I dedicated myself to taking care of all hand injuries that arrived at our hospital. That meant I was on call 24/7/365 for hand injuries."
That workload and dedication earned him a year's worth of vacation which he took in the form of a sabbatical to enter the CMKI fellowship program.
He recalls, "I arrived in Louisville two weeks prior to my fellowship training. During that time, I was asked to write a chapter for a textbook as a co-author with Dr. Harold Kleinert. When Dr. Kleinert read a draft of chapter, he suggested that I consider joining Kleinert Kutz and Associates, which I accepted in all humility."
Thirkannad's special areas of interest are pediatric problems including deformities and injuries. Also, adult rheumatoid arthritis, wrist problems including fractures, ligament injuries, and arthritis, and tendon transfers for nerve problems. In addition, he sees common problems like carpal tunnel syndrome, cubital tunnel syndrome, ganglion cysts, and trigger finger.
His scientific and engineer's sensibility helps when he encounters complex wrist problems that need reconstruction, or severe deformities due to rheumatoid arthritis. Another area of complex problems he sees are scaphoid fractures that have not healed or scaphoid fractures where the bone has lost its blood supply. In the latter case, the patient will require a vascular bone graft surgery to potentially save the scaphoid from dying.
Honesty, says Thirkannad, is his guiding principle. "If you are honest, you will always endeavor to make the correct diagnosis. If you are unable to make a definitive diagnosis, you will seek help from a colleague. If you are honest, you will always recommend only that mode of treatment which you believe is the best for your patient. And finally, if you are honest, you will be able to look back at each day's work and feel a sense of fulfilment. That means, when you go home that night, you can lay your head on your pillow and sleep well."
MICHELLE D. PALAZZO, MD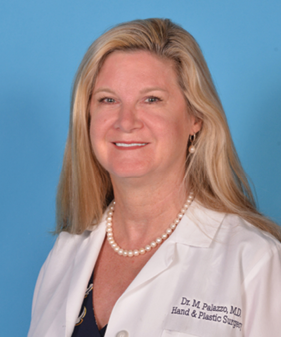 Michelle D. Palazzo, MD, originally from Peoria, Illinois, went to the University of Illinois for her undergraduate and graduate degrees in engineering. Her medical degree came from Southern Illinois University, with residency at Saint Louis University in plastic surgery; then Georgetown University in Washington, DC, for a fellowship in aesthetic surgery and reconstruction of the breast; finally, CMKI fellowship in hand and microsurgery.
Among the Kleinert Kutz orthopedic and hand surgeons, Palazzo is unique in her dual practice focus on hand microsurgery and breast reconstruction.
She is aware of some minor areas of confusion. "Some patients cannot understand how I do both hand surgery and a wide variety of plastic surgery cases. Hand surgery is part of the training we receive as plastic surgeons. I love being able to work on all parts of the body and in all age groups," says Palazzo.
She is also on the go a lot, "I work out of several different office locations and hospitals and surgery centers, so I am never in the same place two days in a row."
Palazzo's hand care practice covers the usual range of carpal tunnel syndrome, arthritis, and tendonitis. Her breast care practice includes mastectomies and reconstruction from breast cancer and skin cancer, and breast surgery for reduction and cosmetics.
"Advanced breast expanders, implants, fat harvesting tools and biologic materials help make breast reconstruction faster and less painful and with better results," she says, emphasizing that she "treats her patients with respect and allows them to make well informed medical decisions in their health care treatment."
ELKIN J. GALVIS, MD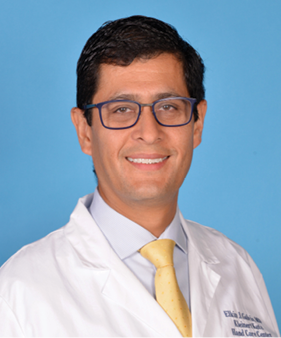 Elkin J. Galvis, MD, grew in Bogota, Colombia. He attended medical school at the Universidad Nacional de Colombia (National University of Colombia), obtaining his medical degree in 1999, followed by orthopedic residency at Javeriana University in 2004. Impressed by the world class hand care and surgery training and the longevity of the Kleinert Kutz practice, he came to CMKI for fellowship training in 2010.
"I treat patients in all age groups, from early age to geriatric patients. I take care of multiple conditions, traumatic injuries and chronic conditions. I have a special interest and focus in peripheral nerve pathology and treatment with nerve or tendon transfer for different palsies, after stroke, and quadriplegia," says Galvis.
The most common problems for Galvis' patients are peripheral nerve compressions, carpal tunnel syndrome, and cubital tunnel syndrome, followed by chronic arthritis, tendonitis, and tenosynovitis in different areas in the hand. "I have a special interest in nerve and tendon transfers after palsy and spinal cord injuries," says Galvis.
Galvis believes that research in nerve healing and better understanding of the process and the possibility to enhance nerve regeneration are in the future for hand care. He'd also like to advance the idea that surgery can help patients with nerve compression and that neuroleptic medication does not have to be the first option for treatment.
"Protocols are important to guide care, but every patient is different. We need to adjust to the unique situation of each person. Patients need to take an active role in decisions about their health, and the physician is there to guide and advise," he says.
"Life is motion," says Galvis. "Orthopedic surgery on extremities keeps us moving."
LAXMINARAYAN BHANDARI, MD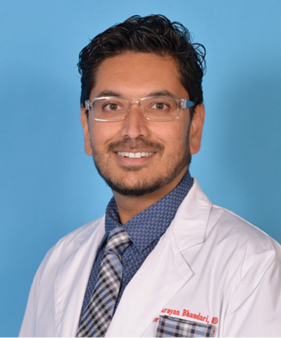 Laxminarayan Bhandari, MD, grew up in Mangalore, India, the son of a father who was a pathologist and a mother who was a dentist. He received his medical degree at the Kasturba Medical College of Mangalore and did his general surgery and plastic surgery residency at Calicut Medical College before entering CMKI for fellowship training in 2015.
Like many orthopedic and plastic surgeons, Bhandari enjoys the satisfaction of restoring the use of limbs to a patient and "giving patients back what they have lost," he says. The name and legacy of Kleinert Kutz brought him to Louisville to perfect his skills and advance his training.
Bhandari sees patients from pediatrics through seniors, particularly hand trauma. A newer member of the practice, he believes that advancements in hand prostheses and neuro integration will have significant impact in the future of upper extremity surgery and treatment.
"Always do what is best for the patient," he says.
CLAUDE MURESAN, MD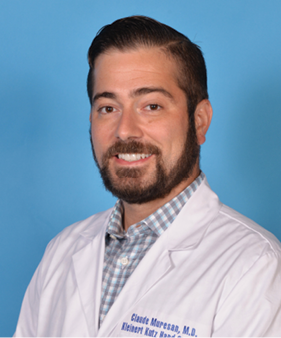 Claude Muresan, MD, grew up in Gaithersburg, Maryland. His brother, Horatiu Muresan, is a reconstructive plastic surgeon who practices in Myrtle Beach, South Carolina. Together the brothers graduated from the University of Maryland and the university's School of Medicine in Baltimore. He completed a fellowship at UofL in plastic surgery in 2019.
During his plastic surgery training, he was exposed to hand surgery and became fascinated with the field. He completed a fellowship in hand surgery at CMKI in 2020 and stayed on as faculty. He recalls how Palazzo arranged an additional rotation with Kleinert Kutz during his plastic surgery fellowship to gain extra exposure to the field. He was amazed at the clinical excellence, dedication to patient care, and complex cases that were being executed at the institute.
"It was love at first site, and I knew then that I wanted to join this cutting-edge group," says Muresan.
Muresan treats people of all ages in a wide array of pathologies. His special interests include decompression of carpal tunnel, cubital tunnel, and other upper extremity neuropathies, upper extremity fracture fixation, thumb, hand, and wrist arthritis, as well as cosmetic plastic surgery and reconstructive plastic surgery.
Technology has been a game changer in Muresan's practice. Initially he performed all open carpal and cubital tunnel surgeries with incisions of approximately 6 to 15cm. With advances in endoscopic equipment, he has transitioned to doing the same procedures through a 2cm and 4cm incision. This translates into a smaller scar, improved cosmesis, less postoperative pain, and a quicker return to normal use.
"I believe that new endoscopic and arthroscopic technology is changing the field. Advances in cameras, nanotechnology, and optics are revolutionizing the type of incisions we utilize to perform the same operation. As this technology improves, we will see new devices and techniques developed that will allow for smaller, single-site incisions that will translate into less postoperative pain and a more rapid return of hand use and work," say Muresan.
Muresan has a passion and dedication to patient care and continues to teach future surgeons. "It is an undeniable privilege and honor to use surgery to restore patients functionally," he says.
HAIQIAO JIAO, MD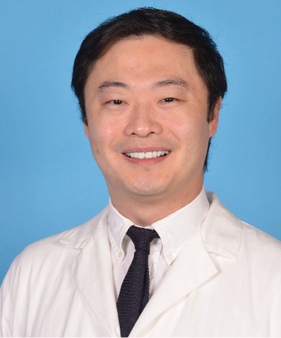 Haiqiao Jiao, MD, was born in Beijing, China and immigrated to the United States in 1988 where his father pursued a PhD in chemistry and his mother was a teacher. Growing up, education was always emphasized as well as empathy and compassion for others. It was with his strong family support that he decided to devote himself to helping others in the most direct way possible and pursued a career in medicine.
Jiao received his undergraduate degree from Vanderbilt University and his medical degree from the University of Tennessee Health Science Center where he met two doctors who influenced his career in plastic surgery, Bill Hickerson, MD, and George Maish, MD.
Jiao completed his residency in integrated plastic surgery at Louisiana State University in New Orleans, gaining experience in the breadth of plastic surgery. Under the tutelage of Kelly Babineaux, MD, he discovered hand surgery. "Dr. Babineaux showed me how you can restore someone's life and livelihood," says Jiao. After completing his residency, Jiao joined the CMKI fellowship program. "I am honored to be a part of this world class hand center," he says. Jiao's interests include hand surgery, fractures, nerve injuries and compression, tendon and soft tissue injuries, skin and nail lesions, microsurgery, and Dupuytren's contracture.
Carrying on the Legacy
"We have a group of physicians in our partnership – the more senior partners – we all had the benefit of training under Dr. Kleinert and Dr. Kutz. So that sets us apart as far as where our training came from. The younger physicians did not have that benefit, as our founders have passed. But we continue the legacy, we continue the vision to train hand surgeons and deliver hand care to patients. I think that Kleinert Kutz is one of those places – it's a family, and we have the same mission and goal to continue and carry on the work that Kleinert Kutz started," says Napolitano.