Jennifer Daily, MD, medical director of UofL Health – Sports Medicine, takes a holistic approach to make sure patients reach their goals, on and off the field.
LOUISVILLE As a former coxswain on the University of Kansas women's rowing team, Jennifer Daily, MD, knows the physical and mental demands of being a college athlete. In her role as medical director of UofL Health – Sports Medicine, she uses this knowledge to ensure that not only elite athletes but all of her patients achieve peak performance.
According to Daily, "Sports medicine is primary care; it is keeping people active, so we see all walks of life. In our sports medicine clinic, we see weekend warriors, young kids that have overuse injuries, 85-year-old patients who want to keep active and dancing and moving. So, it's not just college athletes and high school athletes who we see, although those are a big part of it." Many people do not realize that the field of sports medicine caters to patients all ages and encompasses counseling, non-surgical treatment, and diagnostics, including ultrasound and in-depth motion analysis utilizing the DARI system, which provides data on performance, mobility, alignment, force, and sway.
Misconceptions are understandable, as the field itself is a relatively new one. "The specialty overall is young; it's not been around a very long time. Even our organization, the American Medical Society for Sports Medicine, is also very young, so it's neat to see how it's grown since when I was a fellow," says Daily.
Daily completed her fellowship in primary care sports medicine at the University of Missouri-Kansas City (UMKC). Prior to that, the native of Reno, Nevada returned to her home state from KU to attend the University of Nevada School of Medicine. She followed up with a family medicine residency, also at UMKC.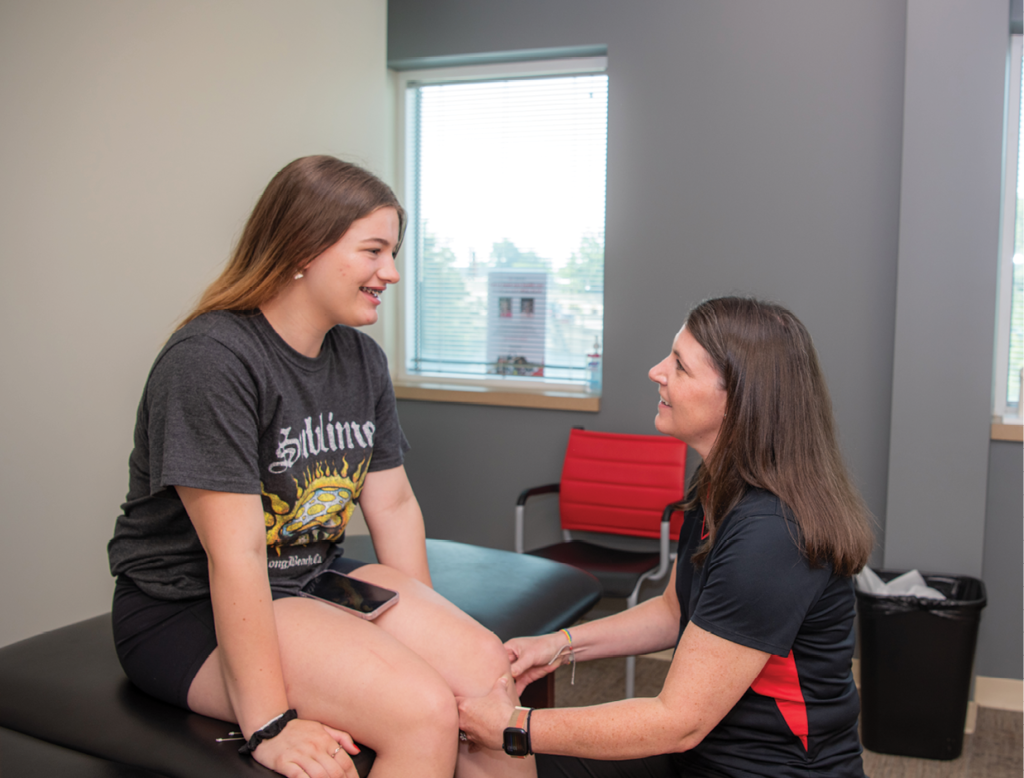 An Offer She Couldn't Refuse
After her fellowship, Daily spent her early career in a private practice in Missouri, where the majority of her clinic time was spent on family medicine. She yearned to incorporate more sports medicine and work with athletes, so when the opportunity arose to join the team at UofL Health, she was extremely intrigued. After a visit to the city and encouragement from her husband, she took the position and is thrilled with that decision. Daily states, "My husband said, 'Opportunities like this, to become a Division I team doc, just don't come around; you have to take it.' And, we both were like, 'Yep, this just feels right. We've got to do it.' That was in 2014, and it was the best decision we ever made."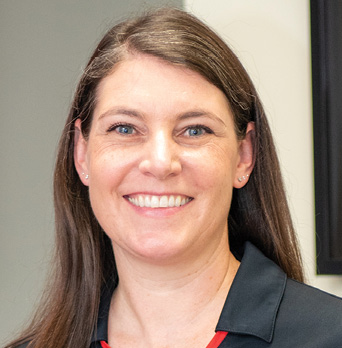 Finding an opportunity to work alongside other women in the field is even rarer, but when Daily joined UofL Health, the director was Jessica Stumbo, MD, also a woman. The specialness of the situation was not lost on Daily. She states, "Within our organization of sports medicine doctors, there's only 25% who are women; we're still the minority of sports medicine practitioners. So, I definitely recognize this [serving as medical director] is a big deal."
Along with serving as director, Daily sees primary care patients two half-days and works in the sports medicine clinic two half-days as well. As a course director at UofL School of Medicine, she also has dedicated time to develop curriculum for Introduction to Clinical Medicine, a longitudinal course required for all first- and second-year medical students. In addition, she is program director of UofL's fellowship program. Evenings and weekends, you can find Daily on the sidelines attending to the student athletes on the women's soccer, women's tennis, women's rowing, men's and women's swimming and diving, and baseball teams.
Putting an Emphasis on the Mental as Well as the Physical
As a team physician, Daily gets to know the athletes personally and is aware of the immense stress they can be under. With the latest NIL rulings enabling college athletes to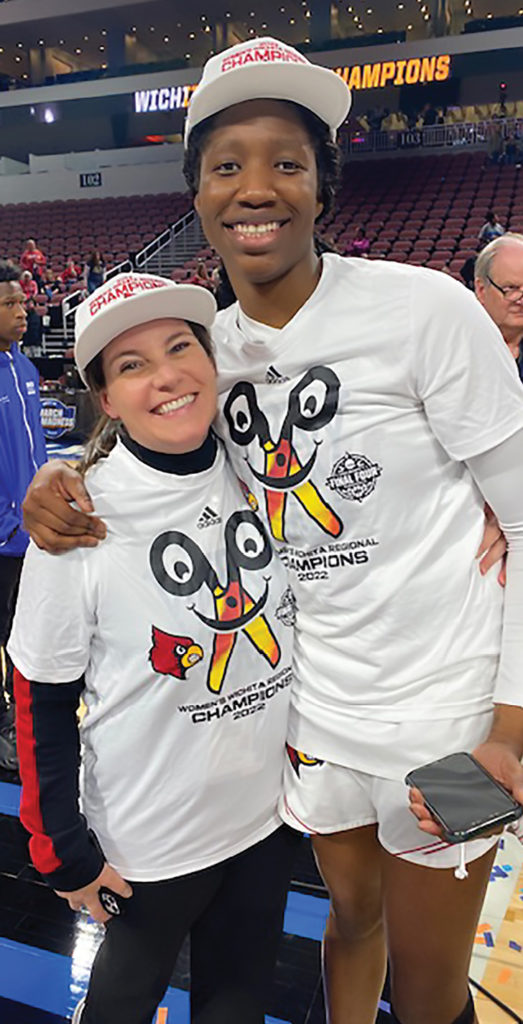 garner financial gains from their name, image, or likeness, there is even more pressure to look and perform your best. Accelerated pressure can lead to anxiety, depression, eating disorders, sleep disruptions, and even substance abuse. This is why tending to the mental health of these students is as important as monitoring their physical well-being.
Daily explains, "A lot of our athletes identify as a person with how they perform, so if they're performing well, then they have high self-worth and self-value. But if they aren't meeting expectations, then self-doubt creeps in and they start viewing themselves as less and less and not worthy. These young adults can get in a pretty low space pretty quickly."
This is where mental health guidance comes in with resiliency training, counseling to deal with past traumas, teaching positive self-talk, and providing different coping skills and emotional wellness strategies. "The mental health aspect of it cannot be understated—it is so huge and can impact not only how they perform now, but how they continue to grow and develop as they leave our universities," Daily adds.
Daily takes a mind/body holistic approach with all of her patients by taking into consideration stress, nutrition, sleep, exercise, and then gaining as deep an understanding as she can about the person as a whole. She says, "They deserve my undivided attention and my full focus for the time I am with them. They deserve to be heard and listened to. My goal and philosophy are to create a safe space where my patients can be vulnerable and honest, and where I can meet them where they're at and give advice on what I think we should do. We're on that journey together."
In closing, it would be remiss not to mention that UofL Health was named as the official health care provider for the Louisville Cardinals. Along with sports health physicians, athletes have access to the many talented providers within the system, including cardiologists, orthopedic surgeons, neurologists, mental health professionals, and primary care doctors. Daily says, "I'm so proud to be part of this organization. We're going to take great care of our athletes and our patients. It's very, very exciting."