Evolving subspecialty melds primary care and sports medicine to nix chronic pain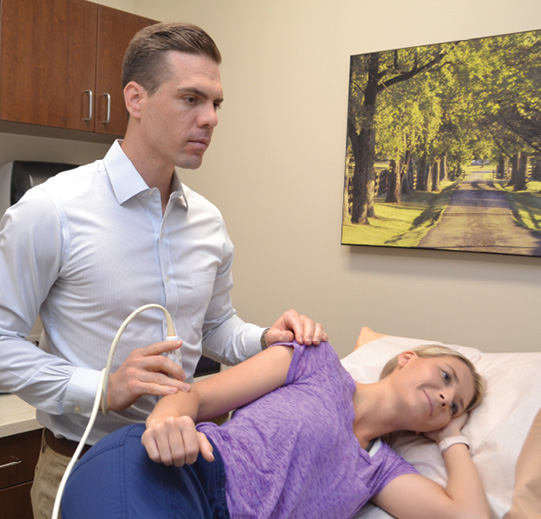 LEXINGTON The work Frank Taddeo, MD, does with CHI Saint Joseph Health – Orthopedics can be life changing. The outcomes Taddeo and his team achieve for patients who struggle with chronic pain and nagging injuries are true game-changers.
Their work is part of a relatively new subspecialty that melds elements of primary care and orthopedics. Many of Taddeo's patients have already seen numerous physicians in their quest for relief from chronic pain.
"These are usually patients who will see good results from the advanced, minimally invasive ultrasound technology we specialize in," says Taddeo.
Bridging a Gap Between Surgery and Conservative Therapy
Taddeo's team works to prevent certain painful conditions from progressing. Beyond relieving pain, they can often fix problems that cause the pain and even help patients preserve their general health.
Advanced ultrasound technology is the key to his practice's success. While ultrasound was invented in 1957, the last 10 years have marked dramatic improvements in software and screen resolution. Few are trained in this new clinically based musculoskeletal ultrasound.
"We started out being able to look at livers and gallbladders and even babies. Now we can look at tendons and nerves," Taddeo says. "Today we can precisely guide a needle and place treatments exactly where they need to be."
Taddeo describes how a typical care scenario might unfold. A person with shoulder pain gets an MRI. Next comes a successful surgical repair, yet several months later the patient still suffers with shoulder pain. The surgeon, who is reluctant to operate again, refers the patient to Taddeo. An ultrasound shows in great detail exactly what's going on, especially when it comes to nerve entrapments and small tendon injuries.
"We may be able to see that the problem is a tear that may have developed during rehab or that just didn't heal well post-surgery," says Taddeo. "We can treat that tear with plasma rich platelets (PRP), and the results are pretty remarkable: decreased pain and improvement in range of motion/function. These treatments are often how high-level professional athletes are able to return to play shortly after an injury.
Solving Puzzling Pain Problems
Pinpointing the underlying causes of chronic pain can be challenging. For example, it is not unusual for patients to have a normal nerve conduction study yet experience ongoing neuropathic type pain.
Pain after knee replacements can be a tricky challenge. Sometimes after a joint has been successfully replaced it functions well, motion is good, and hardware and alignment are right. Yet the patient suffers ongoing pain months and years after the procedure and completion of rehab. Taddeo recognizes this as a common – and sometimes treatable – problem typically caused as healing begins and scar develops around the nerves.
Nerves do not like being trapped or crowded. With advanced ultrasound, Taddeo can see entrapped areas and put a specialized fluid channel around the nerve. A special fluid with a touch of steroid settles the inflammation and releases the nerve away from the entrapment.
"The result is almost immediate with lasting pain relief," he said.
Taddeo does many nerve blocks and hydro-dissection procedures to help address chronic entrapment from scar tissue. Steroids can provide some relief temporarily, but hydro-dissection injections are far more effective for pain caused by scarring or narrowing around the nerve from surrounding structures.
PRP is an effective treatment for chronic nagging tendonopathy and early osteoarthritis. PRP accounts for about 90% of the injections that Taddeo's team performs. Though these injections are not yet covered by insurance, they are quite cost effective as they can often help the patient avoid surgery. These injections can help to repair some of the micro damages that often lead to chronic discomfort.
Additionally, Taddeo routinely receives referrals from surgeons whose patients are unable to have MRIs.
"We'll do a diagnostic ultrasound and further evaluate the underlying structures while managing to avoid a $2,000 MRI. The cost of an ultrasound is generally about one-tenth that of an MRI, and their insurance typically pays for it" says Taddeo.
Percutaneous tenotomy is another specialized minimally invasive procedure Taddeo uses to relieve chronic pain caused by partial tears and sometimes calcific tendons. It is done using a device Taddeo describes as "essentially a needle with a pressure washer on the end of it."
"It washes away damaged tissue while leaving the healthy tendon intact, says Taddeo. "The benefit of this procedure is that it does not use sedation anesthesia and only requires a ~1 cm incision. Everything is guided with the ultrasound, which allows for a minimally invasive approach. Patients can go home the same day with only a small bandage."
One Triathlete's Amazing Story
One triathlete's story shows the power of being able to pinpoint "problematic nerves." This athlete was an older competitive runner in good physical condition who suffered severe pain from periodic "ankle weakness." After the first mile of his run, his foot would suddenly give out.
Like most triathletes, he would continue running. The issue worsened and led him to Taddeo, who performed a diagnostic ultrasound evaluation. The area of concern was identified, and at the next visit a diagnostic injection was performed.
"Basically, his common peroneal nerve, which wraps around the head of the fibula, had become trapped by some prominent musculature that developed as a consequence of how he strikes his foot," Taddeo explains. "We were able to release pressure on the nerve with an injection."
After the injection the patient was put on a treadmill. He was able to run without foot drop. Soon after this, he ran a triathlon and finished first in his age group.
Aiming for Best Possible Outcomes
Taddeo hails from Fort Lauderdale, Florida, and graduated from Florida State University. He knew early on that he was called to medicine. After medical school at the University of Medicine and Health Sciences in St. Kitts, he did a family practice residency at Piedmont Columbus Regional in Georgia, then completed a sports fellowship at the University of North Dakota, Altru Health. When Taddeo and his wife, Darcy, now a physician assistant at UK HealthCare, were driving through Kentucky on their way to North Dakota, they were taken with the lush green landscape and rolling hills of central Kentucky. When the position for a primary care-sports medicine physician became available at CHI Saint Joseph Medical Group, he was eager to make the move to the Bluegrass.
Growing up, he played basketball and football, and ran track in high school. He credits that experience to understanding the mind of the athlete, which he feels led him to sports medicine. "The main thing about working with athletes is they want to get better and will do what that takes," he says.
After dislocating his shoulder three times, Taddeo can identify with those who suffer lingering pain after an injury. He acknowledges there are valid reasons for opioid-based pain management, yet cautions against assuming other effective treatments are not available.
"We want people who feel they've run out of options to know a new treatment modality is available that could potentially help them," he says. "Whether it's a partial tendon tear, early arthritis, or scarring around a nerve, we now have the ability to see that and create a personalized treatment regimen right here in our office."
Taddeo focuses on each patient as a unique person. He reviews case histories and develops a broad range of potential diagnoses for new patients. He uses a phone anatomy simulation app to show patients what's causing their pain.
"I use this app daily with patients," Taddeo says. "I can point to the animated anatomy feature and say, 'This is the reason you're hurting and here's how we move forward.'"
This approach sets an expectation for good results. It also reflects his team's care philosophy. "We aim for the best possible outcomes," says Taddeo.