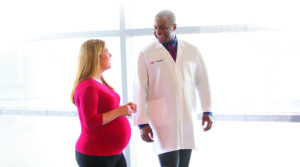 LOUISVILLE The phrase "When one door closes, another opens," most definitely applies to Edward Miller, MD. Growing up in California playing sports, Miller's goal was to become a college—and later a professional—athlete. But, during his junior year of high school, a broken leg sidelined him and sent him through the door of an orthopedic surgeon who would alter this trajectory.
Miller, who is now the division director of maternal-fetal medicine at UofL Health in the UofL Physicians – OB/GYN & Women's Health practice, states, "On my very last visit with my orthopedic surgeon, he said, 'You seem like you really, really like medicine.' I told him I thought I did. He said, 'You can do this.' And, then he walked out of the room. And, it was literally just a moment for him, but it completely changed my life."
Disillusioned after a disappointing and difficult time in medical school at Wake Forest University in North Carolina, he began to wonder if he'd made the right decision. Luckily, Howard University in Washington D.C. was the next stop on his journey for residency and internship.
According to Miller, "Howard University changed everything. Howard University taught me to advocate. Howard University taught me how to get the most care with the least resources to the patient who needed it the most. And they shaped the physician that I want to be today."
Miller finished up with fellowship at the University of California in San Francisco in maternal-fetal medicine, a field that was initially last on his list until his rotation in maternal-fetal medicine and high-risk obstetrics at medical school. After experiencing the incredible relationships that the providers had with their patients and their patients' families, it quickly rose in the ranks. "It was a standard to which I held all other rotations and all other medical specialties when I rotated through them—and it was a standard that wasn't met," Miller says.
This patient relationship is still what brings Miller the greatest satisfaction. He says, "I only get 3 to 10 months with the patient, but it is the most intense 10 months of the patient's life and the most consequential. To be able to play a part in moments of such happiness and also moments of profound sadness, is literally one of the most humbling experiences…and I get to experience it every day."
High-risk Runs the Gamut
Miller's patients range from teenagers to women in their early fifties, all with one thing in common—very high-risk pregnancies. Pregnancies can be classified as high-risk for a wide variety of reasons, including preexisting maternal conditions (e.g., diabetes, hypertension, lupus, renal disease), substance abuse, genetic syndromes (e.g., sickle cell disease, cystic fibrosis, spinal muscular atrophy), multifetal gestation, or fetal anomalies, to name a few. Along with his time spent in clinic, counseling and monitoring these patients, Miller reads up to 60 ultrasounds per day, consults with referring doctors from the greater Louisville area, and delivers an average of two infants per week, many requiring cesarean sections as well as procedures such as cordocentesis and intrauterine intravascular transfusions.
As a physician at a referral center, Miller's patient population is diverse, encompassing white, Black, and Latinx as well as a large immigrant population. Despite the diversity, the thing that unifies his patients is the fact that they are extremely high-risk and require frequent visits. This leads to an opportunity for education that will last far beyond their pregnancy, whether it is discussing insulin pump options with a 17-year-old Type 1 diabetic, lifestyle changes for a woman battling obesity, or counseling a mother battling addiction.
Management of hypertension and diabetics makes up 40% of Miller's practice. He stresses to patients that these chronic diseases need to be controlled, not just during pregnancy, but beyond. To this end, the clinic refers patients to the proper specialist to continue care. He states, "Oftentimes patients are seeing me every week, so every week, I get an opportunity to leave an impact that will, hopefully, carry over outside of this pregnancy to help them get their high blood pressure or diabetes or thyroid disease under control."
Making Space for Everyone
As a physician to women, Miller sees firsthand the disparities in healthcare with females in general and women of color in particular. He realizes that he is often the only doctor they have ever seen who "looks like them" and is willing to listen. He states, "My passion is in diversity and inclusion and equity work. My passion is eliminating barriers that are keeping certain populations sicker, disproportionately, and having disproportionate outcomes over the spectrum of medicine."
The university hospital shared this vision and named Miller the first chief diversity officer for UofL Health.
Miller has also seen firsthand the inequitable treatment of those in the LGBTQ community. As an ally and advocate, Miller is committed to ensuring his transgender patients feel respected by everyone in the department and safe to openly discuss their entire health history. Miller adds, "The ability to provide a space for everyone is just so important. It's a cornerstone to medicine."
As for the future of his field, Miller said, "Maternal-fetal medicine is one of the fastest changing fields of medicine in the world. The things that we're doing today are just incredible." Many of these are in the realm of advanced imaging, like 4D ultrasound and MRI, as well as in the fast-growing field of fetal intervention, where babies are treated for life-threatening conditions while still in utero.
As part of his care philosophy, Miller takes all this technology along with his training and experience, and personalizes it for each patient, keeping their desires at the forefront. He states, "As a maternal-fetal medicine doctor, patients come to me for recommendations. My recommendation can't be made just based on my facts. It's a marriage of my facts, my patient's wishes, and my patient's values. I believe that as a physician, you can't give a one-size-fits-all kind of approach. So, my philosophy is collaboration. The patient's voice should always be the loudest voice in the room."