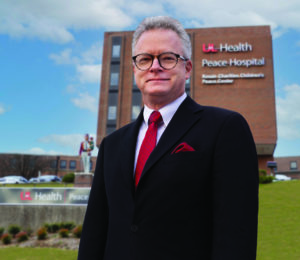 LOUISVILLE Stephen Taylor, MD, medical director at UofL Health – Peace Hospital, has a holistic approach to mental and emotional wellness, integrating medication and therapy. Together with Peace Hospital's Kosair Charities Children's Peace Center, he feels that he is well suited to help the youth of our post-pandemic era.
Taylor came to his field indirectly, and his education, life experiences, and personal philosophy have prepared him to effectively address the needs of post-pandemic youth. For Taylor, collaboration, integration, and conversation underpin his approach to care. He sums up his holistic and deliberate view simply: "Try to see the whole picture—and don't do something until you know something."
Taylor was named to his current role at Peace Hospital in June 2020 and also maintains a private practice. He came to psychiatry circuitously, having studied music in college. While practicing as a private music teacher, a physician adult student observed Taylor's attentiveness to emotional and personal matters and told him he ought to train to be a psychiatrist. Through his medical training, Taylor never lost his musician's sensibility; for him, therapy is always a dynamic, responsive combination of tools available. He strives to "combine a knowledge of the biology of mental illness with an understanding of the complexity of lived experience to bring a more holistic approach to treating mental illness."
Eventually, Taylor sought to augment his medical practice through psychoanalytic training. He feels the connection between such therapy and music, particularly jazz. Both rely on the interplay of structure and freedom, he says. "Psychoanalytic work is like jazz," Taylor believes. "Underlying structures are known, but there must be constant improvisation and reaction. There is a sense of what the whole body is doing that contributes to the total experience."
"There needs to be this interdisciplinary way of working with kids in order to really see them."- Stephen Taylor, MD, medical director at UofL Health – Peace Hospital
Whom He Can Help and How
Taylor's patients range in age from 13–94, though most are in their 40s–60s. They come for psychoanalysis, medication, or therapy, or a combination of these. He advocates for the integration of medications and therapy, especially in these times. Depression and anxiety are the most common conditions that he treats, because, he says, "20 to 30 percent of our population is experiencing one of these at any given time."
UofL Health – Peace Hospital's population and vision are similar to those of Taylor's, though far more extensive. Their Kosair Charities Children's Peace Center is the nation's largest private provider of youth inpatient behavioral health services, and it prides itself on a comprehensive approach to working to meet young peoples' behavioral and emotional needs. Peace Center serves children with intellectual or developmental disabilities, those with psychiatric needs, and the complex cases where both exist in a single patient. Like Taylor, the staff at Peace Center is committed to integrated treatment using a variety of medication and therapy methods.
Kids These Days…Need Integrated Care
In the wake of the pandemic, adolescent deepened. At the heart of this is isolation, Taylor feels, with 12–18 months of remote learning and tech-based communication replacing traditional face-to-face interaction for many kids. For all of us, Taylor says, "Going out into the world and forming new communities, building new relationships, is integral to our being human, and kids missed out on so much of this. Losing out on this for a year," he continues, "has a much bigger impact on someone who has only begun this process than it does on adults, who have been doing it for decades." That is why getting back to school was so significant for his patients: "School looks like utopia to kids who are stuck all day in their rooms," he concludes.
Similarly, while screen-based therapy was a valuable bridge, Taylor is so glad to be regularly working with his young patients again. He feels strongly that "There is nothing that is quite as intimate or powerful or connecting as two people communicating in the same space. There is no substitute for this." This helps him in another valued approach to working with young people; he needs to find their language and use it to speak to them. This takes time, attention, and proximity, and some of his patients have needed more of this than they did pre-pandemic.
Medication plays a key role also, especially now. Some of his adolescent patients have needed their medication increased, and others have started medication for the first time. He has a favorite analogy that helps his young patients grasp their evolving treatments. He compares them to sailboats on the sea. He tells them, "We have different types of sails to use for different seas, especially when it gets stormy. To always keep the boat safe, we use different sails, different treatments." He reminds them this does not mean they will not feel the storm, nor will it never be scary. He wants them to know that "Our goal is to keep the boat upright so that when the storm is over, we can get the other sails out and put away the storm gear. Our goal is to keep the boat in the water."
The Peace Center approach embodies Taylor's concern for the attendance to the many parts of a patient's experience and the integration of multiple treatment modalities. In addition to the psychiatrists and nurse-practitioners, there are many interdisciplinary resources for young patients, including access to educational services through JCPS, art and horse therapy, and gyms and playgrounds. "To be able to see the kids from the multi-disciplinary perspective, we get a much better idea what is going on with them, and we have a much better chance of coming up with an effective way of treating them." Among his diverse colleagues there, he concludes, "Collaborative work is such an important tool at Peace Center."
Integration Strengthens Broadly
True to his integrative nature, Taylor is concerned about isolation for mental health professionals also. He worries that his field suffers from a division between the psychiatric side and the general medical side, that many tend to be myopic, or have too much at stake in pushing for their perspective. "If we get caught up in this, we are going to miss the picture," he says. "There needs to be this interdisciplinary way of working with kids in order to really see them." Taylor feels that the pandemic has exacerbated this. "It has pushed us towards isolation professionally. We need to make a concerted effort to fight against isolation," he pleads.
Taylor readily employs another musical analogy, that just as music feels like it is alive inside the performer, psychoanalytic work is about becoming aware of what is alive down deep inside of us. Attending to this is key to completing the big picture. Through talk and observation, he contends, we can get as much of a story as possible before we decide anything. This is particularly important with young people. Taylor concludes, "When we see kids from a multi-disciplinary perspective, we get a much better idea what is going on with them, and we have a much better chance of coming up with an effective way of treating them."