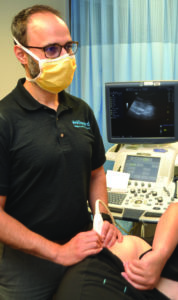 LEXINGTON How does chronic pain change a patient? How can a patient change their relationship to chronic pain? If you are asking these questions, you will be excited to know that you have a valuable resource for answering them in Wellward Medical, Lexington's most integrated and cutting-edge clinic for orthopedic, pain, and mental health problems. Wellward is focused on providing patients with answers to these two questions. Having arrived at a thoughtful, integrative response to the former question over the last few years, Wellward has now developed a comprehensive approach to the latter. Chronic pain sufferers can soon enroll in a 24-session course that Danesh Mazloomdoost, MD, and his multi-disciplinary team have created to help alleviate the enduring physical and psychological effects of chronic pain.
With the guidance of a diverse array of clinicians and the support of a cohort, the Wellward program patients will work their way to a deeper understanding of their relationship to chronic pain and to an empowerment to move beyond what has limited them. "The ultimate goal with our version of chronic pain treatment is to optimize the patient's function and quality of life beyond even pre-injury baseline. By demystifying pain and increasing awareness of the biologic processes that led to injury, we look beyond treatment and toward prevention," says Mazloomdoost.
Key to accomplishing this will be Wellward's partnership with integrative services and abundant, carefully orchestrated outsourcing and coordinating.
The Wellward Understanding of Chronic Pain Treatment
Mazloomdoost's work in recent years has focused on a deep respect for the potency of chronic pain and its ability to alter a patient's sense of self. "Chronic pain can lead to an identity crisis," he says. "Thus, the treatment must be psychological as well as physiological." The Wellward answer combines psychological, physiological, kinesiological, and pharmacological elements in a longitudinal framework, neatly summarized in the acronym HEAL.
HEAL begins with pain mapping and diagnostic injections to isolate specific elements:
Hearing the body's message conveyed by pain;
Envisioning the ideal vision of life held by the patient;
Alleviating symptoms, both medically and through therapy; and then
Leveraging repair mechanisms, which includes an array of tools, from optimal physical reconditioning, to addressing socio-behavioral issues, to enhancing the biology of repair.
States Mazloomdoost, "The HEAL methodology is a transitioning of traditional pain management toward non-surgical repair of damage. Our philosophy relies on using pain as the tool to uncover the roadblocks preventing organic repair then facilitating it with a multi-disciplinary approach: mental health, biologics, and movement." He refers to these three as "the trifecta of chronic pain."
Scaling HEALing: The Development of a Curriculum
For some time, Wellward has guided individual chronic pain patients through the HEAL process in depth, over the course of several months, as each part has multiple elements, and each patient has a unique pain profile. From an observed initial success came the idea to scale a model that would leverage commonly held ideas of the value of cohort learning, regular meeting times, and published curriculum.
"We consulted with many of our existing partners in PT and social-emotional learning to develop a comprehensive, multi-meeting program that could be tailored to meet the needs of different demographics," Mazloomdoost explains. The result is a flexible model of one-hour weekly meetings that will take place over about 6 months. At this point, the curriculum is developed, the workbooks are printed, and the syllabus is set. Mazloomdoost is excited, announcing "We are currently collecting cohorts and anticipate launch in early 2022." There will even be a self-guided on-line version.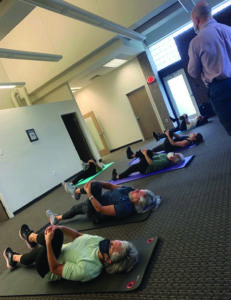 The structure is not unlike a graduate seminar: weekly in-person sessions will include guest lecturers, breakout room conversations, and a group of like-minded individuals sharing their evolving understanding of the topic. Key will be the filling out of demographically aligned groups based on age, gender, and condition. This will leverage the power of shared experience, which is so often crucial to efficient group-based learning.
Much of each cohort's work will go into the H and E steps of the HEAL process. Foremost is learning a vocabulary of pain to demystify it. Patients need to be able to say more than "It hurts." Acknowledgement of the identity crisis that chronic pain compels is also an integral step. Moving forward into a fruitful reduced-pain or pain-free life necessitates understanding just how identity-altering the discomfort and coping have been. Wellward has six clinicians involved in the process at this point. Some curricular segments will be led by a physical therapist as the group examines physiological elements of chronic pain. Some segments will be led by an MSW as relationship issues are explored. Mazloomdoost knows that some difficult emotional issues may arise for patients in the process, so a psychiatrist is included in the "faculty."
Coordination and continuity will be crucial elements in the program's success. The multi-disciplinary team that is facilitating the process will communicate with each other as they pass their "students" onto the next clinician — to give continuity. "The curriculum helps take the patient through the steps of tuning up their entire system, so that patients do not end up experiencing the debilitating effects of more chronic pain in the future," says Mazloomdoost.
Mazloomdoost's work at Wellward Medical continues to push the boundaries of the healthcare industry's limited understanding of diagnosing and treating chronic pain. His firm belief is that there is so much to learn about the patient experience with chronic pain, and so much room for enhancing the quality of life of its afflicted. He encourages healthcare professionals to embrace this discovery process and "Admit that we don't know how much we don't know about the experience of sufferers of chronic pain."
Wellward has created a program that aspires to help those sufferers evolve how they alleviate and grow beyond their pain. Mazloomdoost believes that as more healthcare professionals recognize its potential, Wellward Medical can graduate more patients to a life beyond chronic pain's crippling grasp.