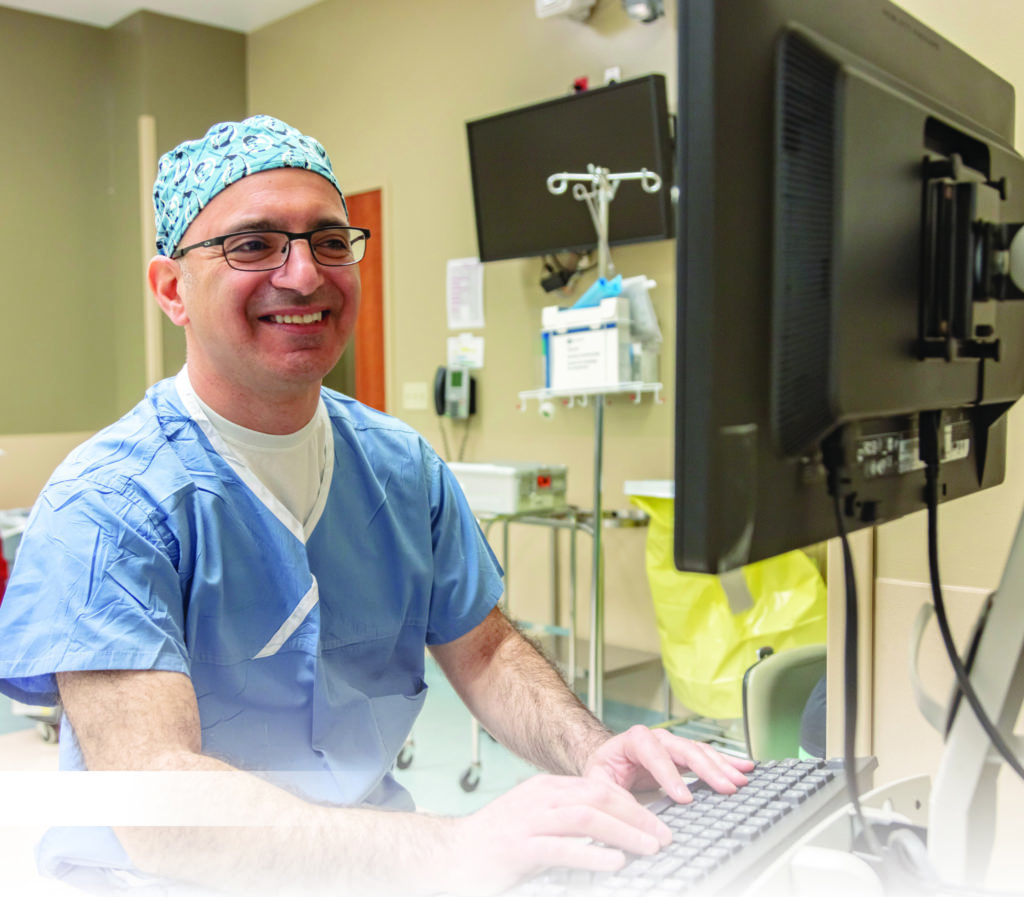 LOUISVILLE UofL Health surgeon Farid Kehdy, MD, brings an approach to surgical management of esophageal diseases that makes his patients want to refer to him. Working mostly on reflux issues, Kehdy ensures his elective surgeries are right for his patients, and then commits to remain in close touch with them. "Once I operate on a patient," Kehdy says, "I want to keep seeing them. I make it clear that if they need anything, they can just pick up the phone and call me. I will be happy to see them within a few days' notice." The consistent growth of his practice suggests this philosophy resonates with his patients.
Kehdy's successful approach to care may be genetic – his father is still a practicing cardiologist at 82 – but it has certainly been refined since settling in at UofL Health in 2007. A native of Lebanon, he followed a mentor from New York to do his residency at UofL in the early 2000s. After a fellowship in bariatric and minimally invasive surgery at University of Texas Southwestern in Dallas, he transitioned to esophageal procedures and settled in Louisville. Kehdy is board certified in general surgery, and is an associate professor of surgery at UofL, also taking on the duties of associate program director of the residency program. Currently, he is spearheading the creation of a swallowing and reflux center at UofL Health in collaboration with numerous digestive tract and ENT collaborators to streamline the care of this patient population, allowing UofL Health to better serve this patient population and the regional community.
Good Hands and Good Tools
Kehdy devotes most of his practice to anti-reflux procedures, with a patient population that extends from twenty-somethings to people in their 80s. As one who likes to tinker with his hands, Kehdy finds the combination of technical practices and medical practices in his field a good fit for him. He also appreciates that his primarily elective procedures are clean and, most importantly, that patient recovery is quick and complete. "They just do great after these procedures," he says.
Reflux is very common in the US, with more than 49 million Americans taking some form of antacids. The conditions Kehdy sees most, GERD, paraesophageal or hiatal hernia, and achalasia have some medical treatments, but surgery may be a better solution for some patients, both young and old alike. Kehdy says that many young people choose these procedures to avoid taking medications for the rest of their lives, and older patients with hiatal hernias who have suffered for decades choose surgery "because they just want to get their stomach out of their chests so they can enjoy a meal again."
Kehdy primarily uses minimally invasive techniques. Most of his surgeries are laparoscopic or endoscopic, and he is trained on the daVinci robot. LINX implants are an element of his practice. He finds that many of his patients respond very well to this magnetic esophageal band.
Kehdy has become a go-to surgeon for sufferers of achalasia. This rare problem occurs when the muscular ring that closes off the esophagus from the stomach (the lower esophageal sphincter or LES), fails to open up during swallowing. This leads to a problematic and uncomfortable backup of food within the esophagus. Achalasia can be relieved by surgically addressing the very base of the LES, either laparoscopically or endoscopically. He sees about 15 patients a year who have this idiopathic disorder.
A Surgeon Not in a Hurry to Operate
Kehdy is conservative with his patients. He says, "I am very selective about who I operate on. For a variety of reasons, I frequently choose to not to operate on patients who request anti-reflux surgery." He always does a very careful workup to make sure that the surgery will help a patient, noting that, "Sometimes there are underlying conditions that would mean that the surgery would not relieve the problem." He does not consider surgery always the last option. As with surgical management of reflux, long-term anti-secretory medications may not be appealing to a patient. "It all depends on the patient; I want each to be able to make an informed decision about what is best for them," he says.
Along with making sure his patients are well informed, Kehdy works hard to ensure they feel assured. He informs them that he will follow up at two weeks, two months, and every 6 months thereafter. "They stay in my practice for 2–3 years after surgery, so we can keep our finger on the pulse of their improvement and their reflux situation," he says.
Kehdy feels strongly about personalizing his surgical decisions, saying "I never push surgery on anyone, but if it is an option, we discuss." His mantra is, "We are here to offer patients the best solutions for them; we are not here to always operate."
That being said, he feels that the general population and many physicians misunderstand the efficacy of surgical anti-reflux procedures. There have been many studies in recent years that show them to be as effective as medical treatments such as proton pump inhibitors (PPIs). Because it is so subspecialized, the surgical management of reflux is not well known by the general medical population. "Patients should know there are options other than taking PPIs for the rest of their lives," he says. "After they have been fully educated, let the patient make the choice."
And many patients are making the choice to see Kehdy. Referrals come to him from all over the Commonwealth, including patients who skip Lexington on their way to him from eastern Kentucky. His philosophy clearly works for his patients.