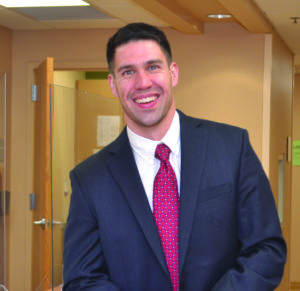 NEW ALBANY/LOUISVILLE As Robert Tyler Luckett, MD, stands at a crossroads in his medical career, he has both finishing and starting on his mind. The Kentucky native will finish his gastrointestinal and hepatology fellowship at the University of Louisville this June, then immediately start a new job with Gastroenterology Health Partners (GHP).
"With GHP, I will be seeing men and women of all ages and will treat a large spectrum of gastrointestinal conditions," says Luckett, who will work at the group's Southern Indiana facility in New Albany. "I'm interested in inflammatory bowel disease, so I'll see patients who have Crohn's disease and ulcerative colitis, as well as people with many other general GI conditions such as acid reflux, diarrhea, constipation, irritable bowel syndrome, dysphagia, and hepatitis C."
Gastroenterology Health Partners has led the Kentuckiana region in the establishment of a large, independent, GI-subspecialty private practice, says Cindy Mattingly, the practice CEO. "Our structure is our advantage. We are able to scale our resources to include a full-scope of GI-related services, which allows us to deliver expert care at the greatest value to our patients," says Mattingly.
GHP performs in-house testing and has refined the care-coordination loop with patients and referring providers at the center. GI-related testing and results are returned rapidly, and care decisions are immediately addressed with patients and primary care providers as a result. "Our strategic mission is rooted in quality, cost, and access, which sets our focus on the wellness of our patients to ensure they have access to the care they need, when they need it, and at the lowest cost. We constantly seek new ways to deliver on that core mission," says Mattingly. "That's how we are able to support superior quality outcomes.
We are all very pleased to have Dr. Luckett joining GHP. He will be an asset and contributing member of the practice."
Getting Interested in GI
Luckett grew up in LaGrange and, after attending Oldham County High School, he headed off to the University of Louisville.
"I've always been interested in healthcare," he says. "I spent time with my dad in high school around patients at the family prosthetics business, and I liked that. During undergrad, there was a physiology class that I fell in love with, and I knew I wanted to pursue medical school at that point."
Because of his love for children, Luckett first thought he would specialize in pediatrics. A pediatric rotation helped set him on a different course. "I shifted my focus to internal medicine," he says. "I enjoy it for the same reason I was drawn to peds: I like building relationships with people, problem-solving, and the broad range of diseases and physiology. During a residency rotation in GI, I had awesome professors who really piqued my interest in GI, and it became clear that is what I wanted to do."
His post-undergraduate education included medical school at UofL, three years of Internal Medicine residency at the University of Alabama-Birmingham, and a return to UofL for fellowship. While at Uof L, he also met his wife Meredith, who is a physical therapist.
What's New in GI?
While it is clearly an exciting time for Luckett as he prepares to join the GHP team, he notes that it is also an exciting time in the world of GI, especially for the treatment of inflammatory bowel disease.
Luckett says patients with inflammatory bowel disease can present in a variety of ways, including a change in bowel habits, weight loss, abdominal pain, or blood in the stool. Patients with more severe disease or who present at a younger age typically need more aggressive treatment, such as a biologic medication. These biologic medicines are made by recombinant DNA techniques, such as monoclonal antibodies, and there are a handful of such medicines that are approved for treatment of either ulcerative colitis, Crohn's disease, or both. These biologic medications can be highly effective, however there are only limited options, and some patients may not respond to these medications.
Luckett says he is excited about some of the advances in treatment for inflammatory bowel disease. A newer class of drugs called JAK inhibitors are now available for treatment of ulcerative colitis in patients that failed or did not tolerate a prior biologic medication. Unlike biologics, these JAK inhibitors are small-molecule proteins that are highly targeted towards enzyme receptors involved in the inflammatory pathway and have some distinct advantages. One advantage is that they do not require injections and can be given orally. They also have a relatively quick onset of action, in some patients after only 1–2 weeks of therapy. The relative safety of these JAK inhibitors appears similar to that of other biologic medications. While there is currently only one JAK inhibitor medication approved for treatment of UC (tofacitinib), there are others that are being studied for both ulcerative colitis and Crohn's disease.
"One of the most rewarding parts of my job is building relationships with my patients. I want to understand what they think and what they believe. That helps build rapport so my patients know we are on the same team, working together."— Tyler Luckett, MD
Other things on the horizon that could have far-reaching implications in GI treatment are studies into the role of genetics.
"One of the biggest advances in medicine over the next 10–20 years will involve genetics. Genetics play a role in all the different conditions we treat—colorectal cancer, inflammatory bowel disease, obesity, fatty liver disease, and cirrhosis to name just a few. Some patients have genetic mutations that predispose them to disease, and others may have mutations which are protective. There are other genetic variations which may determine how well a patient responds to a certain therapy. I think there is an understanding that genetics impacts all aspects of medicine, and likely all of the conditions that we treat, and as we learn more about them, we can tailor our care accordingly."
Luckett's Approach to Care
As he looks ahead to getting started with Gastroenterology Health Partners this summer, Luckett has one thing in mind: making sure he connects with his patients.
"One of the most rewarding parts of my job is building relationships with my patients. I want to understand what they think and what they believe," he says. "For instance, I'll ask, 'If we could accomplish one thing today, what would it be?' That helps build rapport so my patients know we are on the same team working together."
And, with a patient-first philosophy, Luckett has a bright future ahead, no matter whether he is at the finish line or the starting line.