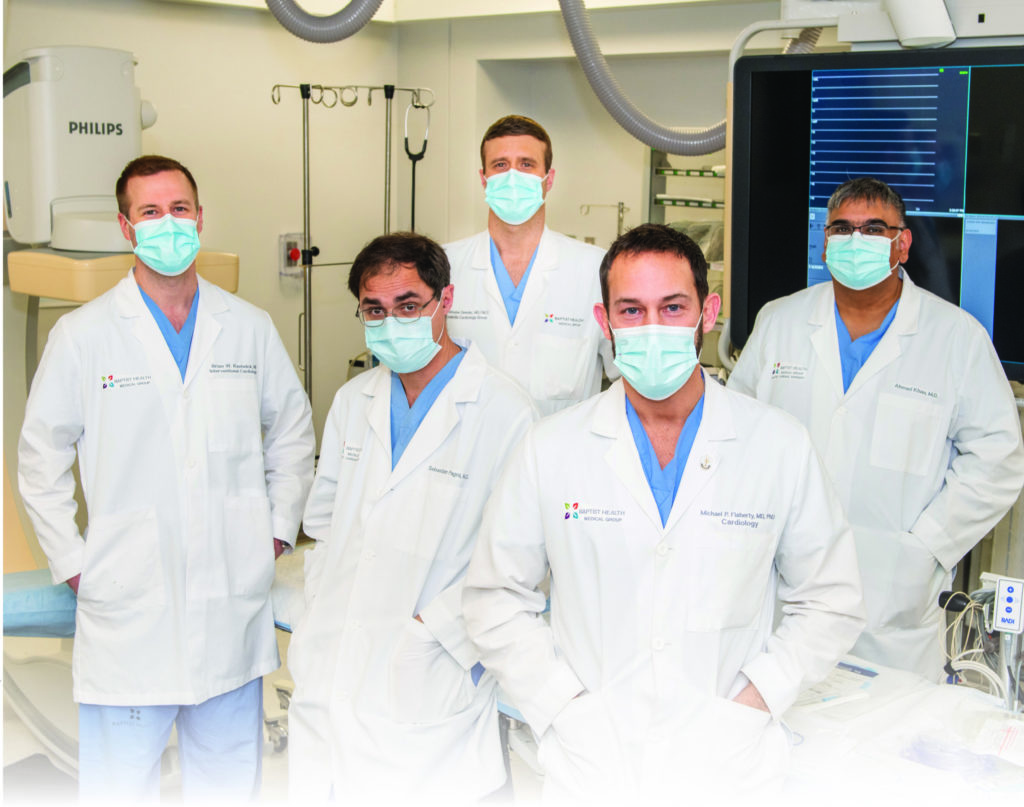 LOUISVILLE Each Monday, the Structural Heart Team at Baptist Health Louisville brings its diverse training, accumulated experience, and individual skill sets to the table to confer on finding the best outcome for each patient on its roster.
According to Surgical Director of Structural Heart Program Sebastian Pagni, MD, "Here we have six brains every Monday making the decisions, which we all believe is in the best interest of the patient. It's an experiment that started ten years ago and is working well in the right place with the right people. There are two highly trained sets of people that bring to the table a particular skill set. It's an improvement in care by joining physicians this way."
Pagni, a cardiothoracic surgeon, attended La Plata Medical School in his native Argentina before moving to the United States. Prior to joining Baptist Health in 2013, he completed his general surgery residency at the Hospital of Saint Raphael at Yale University in New Haven, Connecticut and his fellowship in cardiovascular surgery at the University of Louisville and Jewish Hospital.
Along with Pagni, the team consists of cardiothoracic surgeon Ahmad Khan, MD, as well as four interventional cardiologists: William Dillon, MD; Michael Flaherty, MD; Brian Kaebnick, MD; and Christopher Semder, MD, who serves as the team's medical director. In addition, a sub-team of cardiac anesthesiologists are present for each case.
Another critical component of the team is its three structural heart nurse coordinators: Linda, Emily, and Rebecca, who lead patients from their initial evaluation to the finish line, taking care of all of the necessary testing and scheduling along the way to allow patients to undergo their procedures.
According to Semder, "The service interaction that occurs between the patient, our coordinators, and our physicians functions at a very high level. We have three coordinators who I think are three of the best in the nation. They make this process, which can involve multiple steps, as seamless as possible for the patients and for us as physicians. That is really important for the success of the program."
Semder attended medical school at Marshall University's Joan C. Edwards School of Medicine in Huntington, West Virginia, and went on to residency and a fellowship in interventional cardiology with additional training in vascular and complex structural interventions at Vanderbilt University in Nashville, Tennessee.
Majority Rules
The team approach is not only beneficial for patients, but has proven to be a trans-formative experience for the physicians as well. William Dillon, MD, who is also the director of the Cardiac Catherization Lab and head of the extracorporeal membrane oxygenation (ECMO) team with the Baptist Health Medical Group, says, "Participating in our Structural Heart Team is one of the most exciting things that I have done in my 25-year interventional career. We have a great team approach that we strictly adhere to. I am constantly learning from our surgeons and my other interventional partners. Everyone brings expertise and different insight that have led to great outcomes for our patients."
Pagni elaborates on just how the team operates: "The decisions are made by a group of individuals. We have a list of patients, and after discussing each one, a member of the medical team and a member of the surgical team decide on what should be done. And surprisingly, we always come to an agreement. It's not about 'who is going to do this,' it's about what's best for the patient based on current guidelines and the clinical judgement of all the members of the team. We all agree to move forward with the therapy that the majority agrees on."
Semder adds, "When we have a problem case — it may be aortic valve stenosis or mitral valve regurgitation, our multidisciplinary team allows for us to evaluate multiple different options and tailor the treatment for that specific patient. That may be a surgical or a transcatheter valve, or even a valve clip to improve regurgitation."
"The service interaction between the patient, our coordinators, and our physicians functions at a very high level. We have three cordinators who I think are three of the best in the nation."— Christopher Semder, MD
Cardiothoracic surgeon Ahmad Khan, MD, appreciates having another surgeon with whom to collaborate. He states, "I think the cardiac surgery program here is a rarity in that there truly is a team approach. In the same way we discuss patients with our cardiology colleagues, we discuss most surgical cases amongst ourselves."
Khan, a graduate of New York Medical College in Valhalla, New York, joined Baptist Health in February 2015. After completing his general surgery residency at Christiana Care in Newark, Delaware, and additional cardiac surgery training at Maimonides Medical Center in Brooklyn, New York, he practiced for eight years in Charleston, West Virginia. Khan says that while there he benefited from being "exposed to difficult cases and complicated clinical scenarios right from the get go."
Tailored Techniques
A trio of primary procedures makes up the majority of the work of the structural heart team. Pagni explains, "When we talk about our Structural Heart Program, we need to subdivide it into two or three main components. One would be a TAVR program, or TAVR-related procedures. Then, we have the MitraClip™ program. And then there is the rest which entails holes in the heart, leaks around the valves, and other issues."
For mitral valve repair, the team often turns to MitraClip, a transcatheter procedure to fix the mitral valve in which a small clip is positioned on the mitral valve leaflets, to better approximate the leaflets and reduce regurgitation. During transcatheter aortic valve replacement (TAVR), patients with aortic valve stenosis receive a replacement valve via catheter through a small opening in the neck or groin.
Through his fellowship at Emory University in Atlanta, Georgia—one of the highest volume heart centers in the nation— Brian Kaebnick, MD, gained unique structural heart training experience. Prior to his education at Emory, Kaebnick completed his medical degree at Washington University in St. Louis, Missouri.
An integral part of Kaebnick's Emory training included the use novel alternative access techniques with TAVR, which he utilizes as part of the team at Baptist Health. He says, "Our use of new alternative access techniques has also improved our ability to offer TAVR to patients who may not be considered candidates at other centers and to treat more individuals. For example, the use of the carotid artery as an access site has allowed us to avoid opening the chest to implant our valves. The use of this technique has again helped get patients home faster, but more importantly allows us, as a program, to offer more treatment options to tailor our therapy to the patient rather than trying to fit a patient to a procedure which may carry more risk."
Interventional cardiologist Michael P. Flaherty, MD, also specializes in TAVR and TAVR-based modalities. Prior to attending the University of Louisville School of Medicine, Flaherty, who also holds a PhD in physiology and biophysics from the university, worked as a molecular physiologist. After earning his medical degree, he went on to an internal medicine residency at Boston University in Massachusetts, a cardiology fellowship at UofL, and an interventional and structural heart disease fellowship at The Johns Hopkins School of Medicine in Baltimore, Maryland.
"When I came to Baptist, they had already established their Structural Heart Program under the expertise of this group of talented physicians. I was but an addition to the team," Flaherty says. Shortly after I arrived, we were able to add Mitraclip mitral valve repair and transcatheter mitral valve replacement to our armamentarium."
Outcomes Over Numbers
For the future, the Structural Heart Team's goals include continuing to perfect aortic valve replacement, continuing to improve on mitral valve regurgitation technology, and adding additional procedures for tricuspid valve leakiness within the next year. They are also optimistic about performing more patent foramen ovale (PFO) closures in the setting of strokes. Data over the past few years has indicated that closing this hole in stroke patients aged 60 and younger will decrease their risk of recurrent strokes. The team also predicts they will complete over 150 TAVR procedures this year.
However, Pagni wants to make clear that it is not about numbers; it is about outcomes. He stresses, "We are not based on numbers. Our goal is to have good outcomes—outcomes of excellence. To provide outcomes in terms of mortality, lower complication rates, and making sure the patients have a satisfactory experience. Also we are selective. We truly believe in tailoring procedures to patients and not just because it may fit the guideline; the patient may not benefit from that."
Of course, witnessing the benefit to patients is the greatest reward. According to Dillon, "To have a patient with a terminal illness walk out of the hospital the next day with a new heart valve is truly incredible. We have been able to help a lot of patients that otherwise would have been in tough straits with limited or no-good therapeutic options. These patients are living productive lives—attending family weddings, birthdays, working, and so on."
In closing, Semder says, "I would like other physicians to know a lot of thought is being put into their patients by a team that is working together to find the most appropriate and most effective therapy to deliver to their patients on a case-by-case basis. The amount of thought that goes into this and the amount of effort that goes into deciding what the best option is for these patients is something that I want to people truly understand."