LOUISVILLE From the point of view of neuroscience, the film The Matrix, in which humans are unconsciously functioning inside a simulated reality, is closer to the truth than most think. According to Ian Mutchnick, MD MS, a neurosurgeon with Norton Children's Neurosurgery and assistant professor at the University of Louisville (UofL) School of Medicine, "People think the idea of running a simulation in your head is not true. But, because everything we take in is run through our brain, everything we perceive is kind of a simulation."
Mutchnick explains further, "When a Christian looks at Jerusalem, a Christian thinks about Jesus Christ and the history of the disciples. When a Muslim looks at Jerusalem, she thinks about the prophet Muhammad flying a winged horse into the heavens to discuss issues with the prophets of the Bible. People on both sides tend to think their conception of Jerusalem is the right one, the one that represents actual reality."
These differences in perception coupled with our identification with a specific group are often the source of division and conflict. Human conflict—and the lessening of it—is one of Mutchnick's main interests. He states, "When you can see that so much of what we perceive arises from what we already believe, you develop a greater compassion for people who see the world differently than you do."
As director of the pediatric restorative neuroscience division at Norton Neuroscience Institute, Mutchnick has found the means to explore cognitive neuroscience while treating pediatric patients with a range of brain injuries and issues. Performing as many as 12 surgeries a week, he addresses such complex brain and spine conditions as traumatic injury, hydrocephalus, brain and spine tumors, Chiari malformation, spasticity, spina bifida, tethered spinal cord, and epilepsy.
Prior to his fellowship in pediatric neurosurgery at Cincinnati Children's Hospital, Mutchnick completed both a residency and internship at UofL. He also spent two years in the Peace Corp, where he taught math and science in Tanzania, East Africa. "When I went to the Peace Corp that was a transformative moment because it helped me to know that I wanted to be a physician, because you can go anywhere and be helpful."
Mutchnick grew up in Ann Arbor, Michigan and graduated from the University of Michigan Medical School. He then took two years of graduate studies in decision-analysis at Stanford University. This education greatly shaped his philosophy as a physician. He believes decision making is at the heart of every patient experience, and the cut-and-dried concept that "doctor knows best" is obsolete—especially when it comes to the exceedingly difficult decisions forced upon neurosurgery patients and their families. "I tell my patients that they need to trust me enough to help them make the decision that works for them and their family. By respecting patient autonomy and helping them apply their values to a difficult situation, I hope to help them feel a sense of peace and serenity with the decisions they make," Mutchnick explains.
Spotlight on Surgical Theater
Fortunately, at the Norton Children's Neurosurgery, families have the breakthrough technology of "surgical theater" to help them make these decisions through virtually exploring a 3-D model of their child's brain. Surgical theater combines 2-D imaging scans, such as CT, MRI, and functional magnetic resonance imaging (fMRI) to form a 3-D, 360-degree, color, virtual reality model of a patient's brain. With the use of a virtual reality (VR) headset and controller, similar to that used for video gaming, physicians and patients can journey through the gray matter to gain a more complete comprehension of the patient's condition. Norton Children's Hospital is the first hospital in this region to offer this innovation.
Surgical theater's function is two-fold: it both serves as a patient engagement tool and gives surgeons a more accurate assessment of—and real-time guidance into—the deepest parts of the brain.
According to Mutchnick, "It enables you to take radiographic information about the patient and put it into a 3-D interactive model that makes it easier to engage patients and their families in understanding what we're doing, what the complications might be, and how we need to approach a certain problem. It's a patient engagement tool. Put on the goggles and you can fly through a brain and examine the blood vessels. It's pretty amazing stuff."
Using surgical theater in the operating room also enables neurosurgeons to navigate with extreme precision and even practice the details of a specific patient's surgery ahead of time.
"There's so much more information when you can effectively put it into a 3-D model. We're analyzing the volume of a particular part of gray matter. We're looking for white matter tracts that connect parts of the brain. We're looking for anatomic malformations. We're looking at blood vessel structure," states Mutchnick. "And it allows for the analysis and integration of research-grade radiographic information, and that's a really big part of epilepsy. So it is now standard that we download and analyze the info for all of the surgical epilepsy patients. That enables us to pull additional information we would not otherwise be able to see into the decision-making about complicated patients."
Another innovation changing the way the brain is operated on, as well as how epilepsy in treated, is the use of Visualase, an MRI-guided laser ablation technology that allows neurosurgeons to use lasers to more safely destroy tumors or diseased brain tissue located deep inside the brain. In epilepsy, laser ablation can be used to destroy the part of the brain that is causing seizures. Norton Children's Hospital is one of fewer than two dozen pediatric hospitals in the U.S. who offer this technology.
In addition to better results, these advancements allow physicians to monitor more mundane brain activity. "When you have an epilepsy program, you basically have children sitting with electrodes in their brain and they're hanging out. We're waiting for them to seize," says Mutchnick. "They'll be three to fourteen years old, hanging out for sometimes up to twenty-eight days, with electrodes in their heads."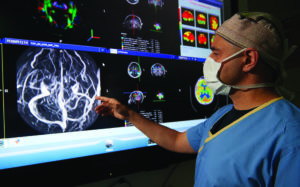 Compassion, Connection, and Cognitive Neuroscience
During this "hanging out" period, children can be engaged in games geared to increase insight into how the brain works. Mutchnick states, "When playing, they give us hard-to-get information about the how the human brain works. There are few times it is okay to put electrodes in a child's brain."
Mutchnick hopes that evaluation of this information will lead to a greater grasp of "how people perceive things and how backgrounds can change how people perceive things."
This brings us back to the concept of living in our own subjective simulations. After looking at his own history as a Jewish man, with an Israeli mother, who spent summers in Israel as a child, Mutchnick realized his own perceptions were biased, specifically around the Israeli-Palestinian conflict.
This led him to a mission to the West Bank in 2015 where he provided free pediatric neurosurgical care to children. "I had an opportunity to go and to interact with Palestinians in this incredibly meaningful way and it was a transformative experience. So, I went back to the Gaza strip in 2017,18, and 19, and had some really fabulous experiences. It has really helped me to see the humanity in the conflict." Mutchnick hopes to develop research protocols to understand how children's perceptions change according to belief.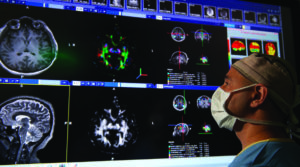 Mutchnick believes a deeper overall understanding of the "neuroscience of belief and perception" and how it influences us to interact as human beings can lead to deeper compassion and a more peaceful coexistence.
As for the future, Mutchnick says, "I think life will always be a bit of a mystery. I'm not saying we're going to solve everything, but I am saying that our understanding of what it means to be human will change as neuroscientific knowledge enters the common culture."