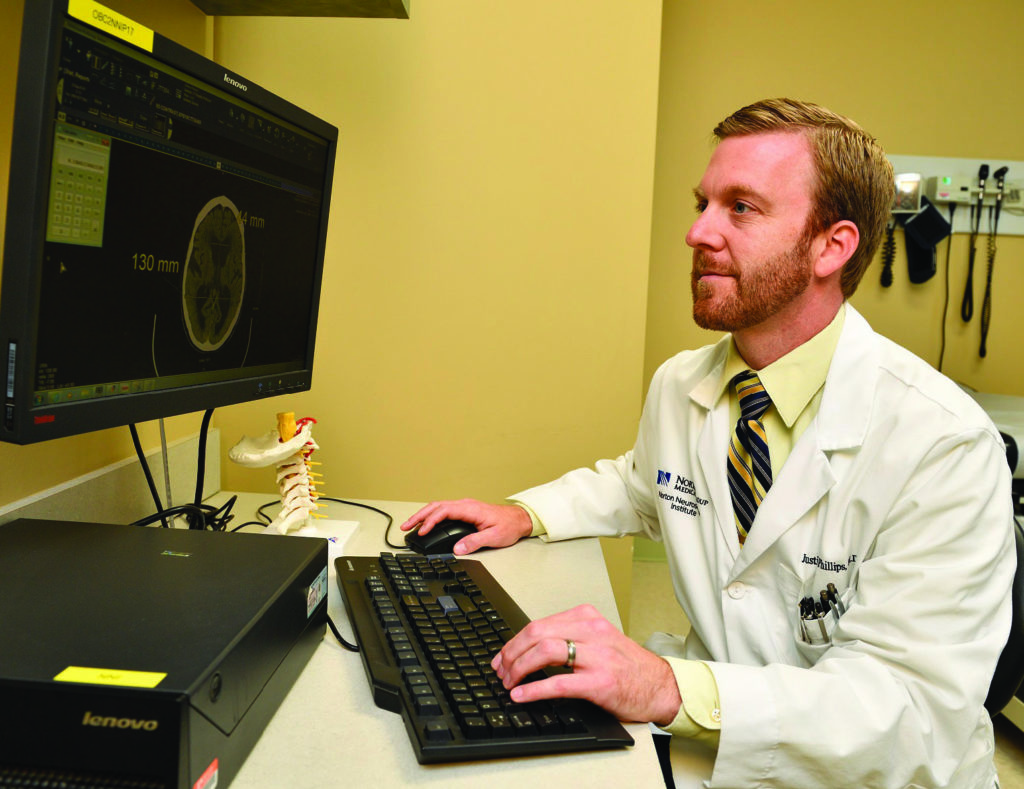 LOUISVILLE How did the son of an auto mechanic and a hairdresser wind up as a movement disorders and Parkinson's disease specialist? In the case of Justin T. Phillips, MD, blame it on science—more specifically, neuroscience.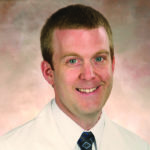 When he was growing up in Danville, Phillips had no idea his career arc would involve serving as the Norton Neuroscience Institute's medical director of movement disorders. He attended Centre College, where he double majored in psycho-biology and philosophy, but there was nary a thought during his undergraduate days about going into medicine.
"I always had an interest in the brain from an academic standpoint, but I really didn't have any specific plans on what to do with that," he says.
While working in a pharmacy in Louisville after college, he felt a calling to help people focus on healthy lifestyles. That eventually led to him enrolling in the University of Louisville (UofL) School of Medicine, which is where things began falling into place.
"Once I got started there, I was clearly drawn to the neurosciences," says Phillips. "The passion kicked in later in medical school and during my residency when I was taking care of older patients with neurological disorders and particularly Parkinson's disease."
Following his residency at UofL and a movement disorders fellowship at the University of Kentucky, he joined the Norton Neuroscience Institute (NNI), where he has served for just over five and a half years. The focus of his primarily outpatient practice is movement disorders and neurology. He estimates that 90 percent of his patients have Parkinson's disease.
Patients and their families also benefit from the services available through the institute's resource center, which offers free education, therapies, support, and programs for patients facing various neurological conditions, including Parkinson's.
What's Old is New Again
Scientists continue to work on a variety of medical therapies to address different aspects of Parkinson's and progress is steady. This has had an impact on how patients are being treated, as does the way in which medications are delivered.
Phillips cites a newer drug, Nourianz (the generic form is istradefylline) as a promising option. "It works on adenosine receptors and has shown to be helpful thus far, and that's kind of exciting for us."
Despite the emergence of Nourianz, two of the old standbys, levodopa and deep brain stimulation (DBS), are as dependable as ever.
"A lot of the new medications we have available for Parkinson's are not nearly as effective as the one we've had for 50 years, levodopa, which remains the standard of care, as does utilizing DBS," Phillips says.
Within that realm, there have been advances on the technological side impacting how some of these tried-and-true medications are delivered.
"There is the levodopa pump, which has been widely used in Europe," says Phillips. "Deep brain stimulation has been part of Parkinson's treatment for years, but now there is competition in the market regarding things like battery life and the ability for a device to be more individualized to the patient. I expect the innovations to grow exponentially over the next few years."
Gut Check
While conventional wisdom has held that Parkinson's originates in the brain, Phillips offers a "Yes, but…" response.
"Most of the motor symptoms of Parkinson's disease can be correlated with loss of the dopaminergic cells in a part of the brain stem called the substantia nigra," he adds. "That being said, there are other areas of the brain, the body, and the nervous system impacted by Parkinson's pathology, and we think it actually starts in the nose and in the gut before it ever becomes symptomatic from a motor standpoint."
Symptoms like loss of smell and constipation could be early signs of how the pathology affects the nerves in the nose and the gut. He says those early signs also raise speculation that such pathologies get their start related to the types of bacteria that live in those places.
"There is a lot of research going on as to how that may progress, but a lot of the non-motor symptoms of Parkinson's can be correlated with this pathology being found in the other places in the nervous system—either in the brain or the peripheral nervous system like in the nose and in the gut," says Phillips.
The ultimate goal, which Phillips dubs "Our Holy Grail," is a disease-modifying therapy.
"The first step is a treatment that will stop or slow down the progression of Parkinson's, ideally one that will reverse the pathology," he says, noting that such advancements could lead to discovering biomarkers and beginning screenings for those symptoms of loss of smell or constipation much earlier in the process.
"I look at Parkinson's disease not necessarily as something we are going to cure, but something we can deal with, similar to how we've dealt with polio. For the next generation, it will be a chronic problem that we stop in its tracks before it ever becomes devastating to a patient. The most important thing we always stress to our Parkinson's patients is the importance of physical exercise. The only thing to date, which has really moderated or slowed the development of Parkinson's, is regular physical exercise," states Phillips.
Next Steps at Norton
In September, the Norton Neuroscience Institute announced a partnership with the Parkinson Support Center of Kentuckiana (See related story on page 24). Phillips says that is just one step in moving the institute forward.
"My vision for our program is to expand our access and outreach outside of the Louisville area. We've set our five-year goal to become a Parkinson's Foundation Center of Excellence, and the first step is to bring in additional clinicians," says Phillips, who currently is the only fellowship-trained, movement-disorders provider at Norton. "That would allow us to have adequate access clinically to more patients to provide more comprehensive care, and we could expand to do clinical trials and be involved in research."
I look at Parkinson's disease not necessarily as something we are going to cure, but something we deal with similar to how we've dealt with polio. For the next generation, it will be a chronic problem that we stop in its tracks before it ever becomes devastating to a patient."— Justin Phillips, MD