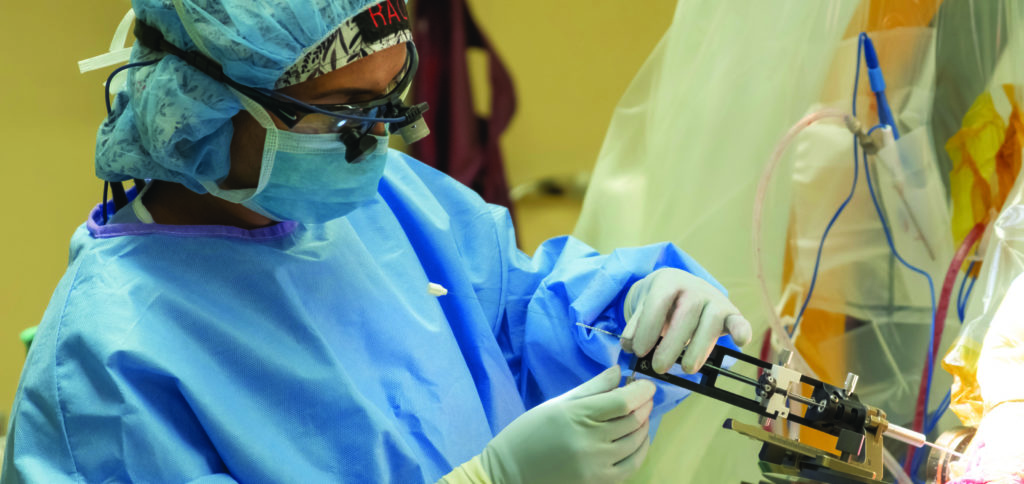 LOUISVILLE Abigail Rao, MD, was drawn to the neurosciences as an undergraduate, and her creative and collaborative nature has found a home at Norton Healthcare's Norton Neuroscience Institute in the emerging field of functional neurosurgery. Unlike neurosurgeons who focus on life-saving procedures, functional neurosurgeons focus on surgeries that improve a patient's quality of life. Epilepsy, essential tremor, movement disorders, and chronic pain are examples of the indications Rao treats, using surgical techniques, including electrical stimulation and neuromodulation. Functional neurosurgery, as a field, is rapidly expanding, and Rao finds Norton Neuroscience Institute an excellent setting in which to be on its leading edge.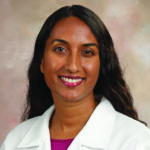 From a Wisconsin family of physicians, Rao migrated to the neurosciences while an undergraduate at University of Wisconsin-Madison. A year of research at the Nation Institutes of Health (NIH) during medical school at Warren Alpert Medical School at Brown University was followed by a neurosurgery residency at Oregon Health & Science University in Portland and a fellowship in stereotactic and functional neurosurgery at UCLA.
Joining Norton Neuroscience Institute was exciting for Rao. She says it was "the best professional opportunity to do what I was trained to do." Norton was pleased to get her and has been supportive of her expansion of the role of functional neurosurgery there. She aims to offer patients hope, options, and education, and strives to treat each patient with the same level of care that she would want for a family member.
An Established but Dynamic Specialty
We might first picture a neurosurgeon dramatically excising tumors or stopping a life-threatening brain bleed, but Rao explains that neurosurgery's roots are in the non-emergent quality of life concerns at the heart of functional neurosurgery. An example is the use of electrical stimulation, a staple of functional neurosurgery. Electrical stimulation of the spinal cord to treat certain types of chronic pain has been around for more than 40 years.
Functional neurosurgeons employ a variety of techniques, including removing an area of the brain causing seizures, using an electrical stimulator on the brain or spinal cord, and infusing medication directly into the spinal fluid. Functional neurosurgeons regularly work with pediatric to end-of-life patients experiencing such neurological disorders as epilepsy, essential tremor, dystonia, nerve injuries, spinal cord injury, multiple sclerosis, trigeminal neuralgia, failed back surgery syndrome, and complex regional pain syndrome.
The indications that functional neurosurgery can address and the tools at its disposal are rapidly evolving. "We now have advanced methods of stimulation that bring more relief to patients suffering from debilitating pain. The result is tremendous reductions in pain, allowing patients to wean off some or all of their pain medication," Rao says.
Another example is with epilepsy. The area of the brain causing epileptic seizures can be identified, but removal can cause disability. Rao says she can now implant electrodes directly in the affected region to mitigate the symptoms.
The cutting edge for functional neurosurgery concerns not only tools but public relations. Rao and others in her field push against a common misconception about neurosurgery: that "brain surgery is always highly risky, and medicine is always safer." She says some patients are not referred to surgeons out of a fear that "all surgery is high risk." Rao explains, "But there are many surgical procedures we do that are not necessarily high risk or invasive or painful—and many are more beneficial than the medical alternatives." Educating patients and their PCP's about this is an ongoing process.
Norton's Culture Maximizes Potential
Rao finds Norton to be fertile ground for creative thinking, and it is clear that she and functional neurosurgery thrive in such an environment. She says the culture there is very supportive, and she enjoys use of up-to-date technology, as the tools of her trade are getting more creative, quicker, and smaller.
There are more than 60 medical, surgical, and research specialists in Norton Neurosciences, and Rao finds her colleagues a "highly collaborative group who are easy to work with." Overwhelmingly, they are very easy to talk with, friendly, polite, and accepting. Rao says, "I think that helps us put our heads together about the best options for patients."
Broad-based collaboration is also structured into her work schedule. One day each week contains a monthly collaborative meeting of a sector of the group. For example, everyone who deals with stroke patients, movement disorder patients, or epilepsy patients who are surgical candidates will gather to review cases. This includes nurses; neurologists; physical, occupational, and speech therapists; and neuropsychologists—even research coordinators might take part. Norton Neurosciences' institutional culture of a multidisciplinary approach, along with the field's most valuable tools, allows Rao and her colleagues to give patients the best options.
And those options just keep increasing, with functional neurosurgery being the fastest growing aspect of neurosurgery with the most emerging technologies and a rapidly-increasing number of treatable disorders. Rao says, "I am particularly excited about our potential ability to address some things that have only been seen as medical problems. Obesity, hypertension, depression, and other psychiatric conditions may have surgical solutions."
Good progress is being made on treatments for both Tourette's and Alzheimer's with functional neurosurgery methods. With this growth, of course, comes new ethical discussions. Rao is realistic about this need, stating, "The field of neurosurgery has put a lot of effort into ethical considerations. We are questioning everything that we knew before about the limits of this field."
Norton Neuroscience Institute is clearly a great environment to maximize Abigail Rao's potential and that of her field of functional neurosurgery. She looks forward to continuing to help people with chronic neurologic conditions live better, as more patients learn about the power of functional neurosurgery. And, according to Rao, this is happening: "I hear so many patients say, 'I am just so glad to meet you and hear about these options that can help me.'"