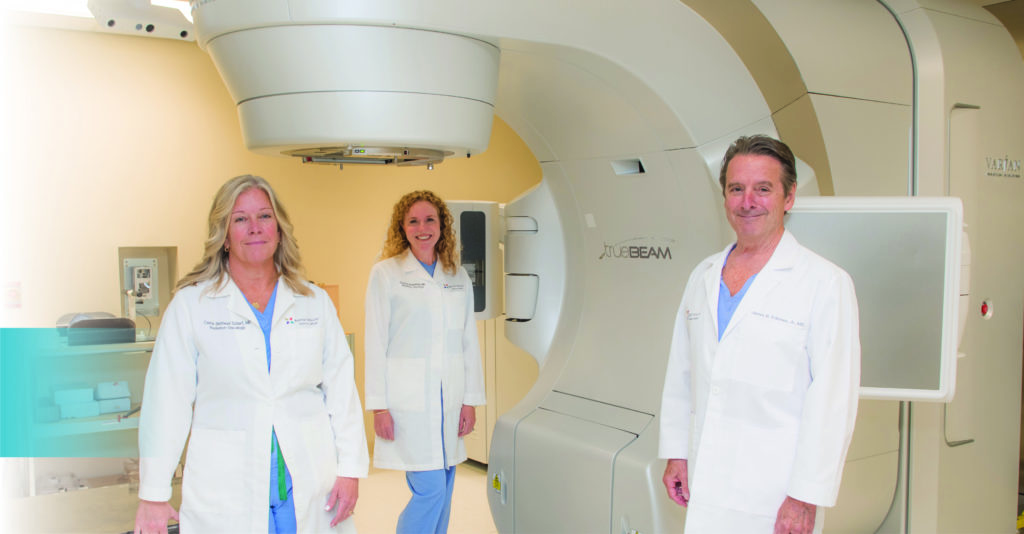 LOUISVILLE Radiation oncology is a unique amalgamation of medicine and math, physics and physicians, technologies and therapies all coexisting and co-advancing. Despite all the complexities within, the specialty itself can be simply defined. In the words of James B. Eckman Jr., MD, "Radiation oncology is treating cancer patients with radiation."
Eckman completed his undergraduate studies at UC Berkley, then headed east to attend the University of Louisville School of Medicine, where he also accomplished his internship and residency in radiation oncology at UofL's James Graham Brown Cancer Center. He says, "Radiation oncology caught my eye because of the large role physics plays in the specialty."
It was also an affinity for physics that drew Carrie Birkhead Scharf, MD, to the lesser-known field. She states, "It's not a sub-specialty that gets a lot of exposure in medical school, so you have to know about it to find it. I was a math major in college. I love math, I love physics, I love information technology. Those are all huge parts of what we do, so it was the perfect combination of patient care and the math, physics, and computers."
In addition, Scharf's father, Ben Birkhead, MD, was a radiation oncologist, and opened the radiation oncology department at Baptist Health Hospital in Louisville in 1991. Upon completing both medical school and an internship at the University of Louisville, and then fulfilling her residency at Loyola University in Chicago, Scharf joined him in 1998.
Along with new patient consults, monitoring of those undergoing therapy, and follow-ups, radiation oncologists spend a large portion of their time planning treatment with the help of sophisticated software. Crystal McMahan, MD, who completed her medical training and internship at UofL and then went on to a residency at Brown Cancer Center, explains, "We do a lot of contouring on our computer screens, which no other doctors really do. We sit down and contour, or draw out, the actual tumor and the lymph nodes at risk and everything we want to treat and everything we want to protect such as heart, lungs, spinal cord, esophagus, and bowels."
At this point other members of the department join in. According to McMahan, "We then send those contours back to the dosimetrist, so it's a big team effort in the radiation oncology department. There's a lot of people behind the scenes other than the physicians."
Along with the dosimetrists, who provide oversight while designing, generating, and measuring radiation doses, this team includes medical physicists, radiation therapists, and nurses.
The radiation oncology department treats adult patients with a wide-range of cancers including breast, lung, prostate, rectum, head and neck, and brain. Scharf states, "We are a really good representation of a community practice. We have a really good mix of what you'd see on a cancer epidemiology chart. All three of us treat all types of cancers so we aren't subspecialized."
Eckman and Scharf joined Baptist Health in 2009, with McMahan following in 2010.
An Abundance of Advancements
The trio agrees that improvements in the field are occurring at an extremely rapid rate. Scharf states, "Ten years is a lifetime in our business. It evolves by leaps and bounds because we're such a technology-based practice. All of those advances allow us to deliver higher doses to tumors more carefully, while delivering less dose to the tissue around the tumor."
Eckman credits "the development of intensity-modulated radiation therapy (IMRT), image-guided radiation therapy (IGRT), and sterotactic radiation therapy (SRT)" and says, "The evolution is that, with those elements, we've been able to conform the radiation beam to the tumor target much, much more precisely."
IMRT uses a computer-generated, three-dimensional image to show the size and shape of a tumor, increasing the ability to hone the treatment field and reduce the amount of radiation that reaches the healthy surrounding cells. Scharf says, "The software advancements allow us to plan complex courses of treatment where we're treating the patients with multiple beams from multiple different directions, which really helps us get the dose to the target point."
IGRT uses CT or additional imaging techniques to increase accuracy and reduce the risk of damaging healthy tissue to treat tumors in areas of the body that move, such as the lungs. According to Scharf, "You can take a CT right before the treatment, when the patient is on the table, and account for any position changes right then. Lung cancers move the whole time we're treating them, so we have the ability to actually watch tumors while we're treating them and adjust the patient's position to be sure we're treating where we want to treat but also that we're not treating tissue that we don't want to treat."
Usually, a combination of IMRT and IGRT are utilized. Eckman explains how both the image and intensity are manipulated. "We have small lead leaves around the edge of the treatment field where the beam is exiting. And, those leaves will shape the outside edge of the treatment beam, so it is a different shape every single time. At the same time, the intensity modulated portion is that these lead leaves can also slide in and out of the beam itself in a way very finely calculated by the computer, so that the intensity of the beam changes."
Another innovation has been in the realm of imaging with the Optical Surface Monitor System (OSMS). As a radiation oncologist who treats a high volume of breast cancer patients, McMahan calls this "a practice-altering technology." She elaborates, "When patients come in for their first visit and their treatment plan scan, we scan them in a normal breathing position, and then we also scan them again taking a deep breath and holding it. When you take a deep breath, it pulls the heart away from the chest wall creating more space between the breast and the anterior surface of the heart. OSMS allows them to reproduce this effect during treatment and deliver the radiation while [the patients] are holding their breath, in turn, delivering less radiation to the front surface of the heart."
Pinnacle of Progress
All of the aforementioned breakthroughs have culminated in SRT, in which a much larger dose of radiation can be delivered to a much more precise site, leading to a greatly reduced number of fractions needed to treat the tumor. Scharf points out, "The ability to plan better, see better, and adjust in real time is what has afforded us the opportunity to expand with the use of stereotactic treatment."
"I try to treat each patient as I would my family or best friend, truly, and give them the best possible care I can." — Crystal McMahan, MD
Eckman adds, "With the software technological improvements we're able to focus the radiation beam to a very small target and deliver a very high dose on a daily basis, very precisely, without injuring any normal tissue around it. And, the side effects are very little because the treatment beam is so precise."
McMahan would like other physicians to understand just how far the field has come. "We've made the biggest advances in side effects and reducing the long-term side effects and complications for patients. Radiation today is definitely not the same radiation they saw in their patients ten and twenty years ago."
For instance, a course of treatment for breast cancer that would have taken a full six weeks can now be delivered in as little as three. With the utilization of SRT, some lung cancer patients can go from 33 fractions down to 5.
Eckman agrees, "It's a very well-tolerated therapy. It's effective. It's evolving and improving. And the safety and the therapeutic outcomes are getting better and better over time."
Fewer Treatments, Less Toxicity, More Smiles
As with all medical advancements, the ultimate goal is to improve both the present and future for the patient, and they are doing just that. According to Eckman, "Radiation therapy is unusual in that it's changing so, so quickly, so it's been very rewarding. Patients are getting better, and they're having fewer side effects, so we see more smiles."
Knowing the role a patient's positive outlook plays in their outcome, each physician is keenly aware that, in addition to the latest technologies, they are responsible for providing hope, respect, and kindness. Eckman holds to the motto, "Don't take away hope."
Scharf echoes this sentiment, "I try to take the approach each day of being extremely optimistic, but always realistic. While being realistic about the goals and outcomes and what we have to offer, it's also my responsibility to be prepared and knowledgeable in order to lead the patients to a place of being more hopeful and optimistic."
In closing, McMahan adds, "I try to treat each patient as I would my family or best friend, truly, and give them the best possible care I can. At Baptist, our entire staff, whether it is the physician, nurses, physicists, dosimetrists, office staff, or the therapists who are treating the patients every day on the table…everybody tries to treat these patients with as much respect and love and kindness as they can."