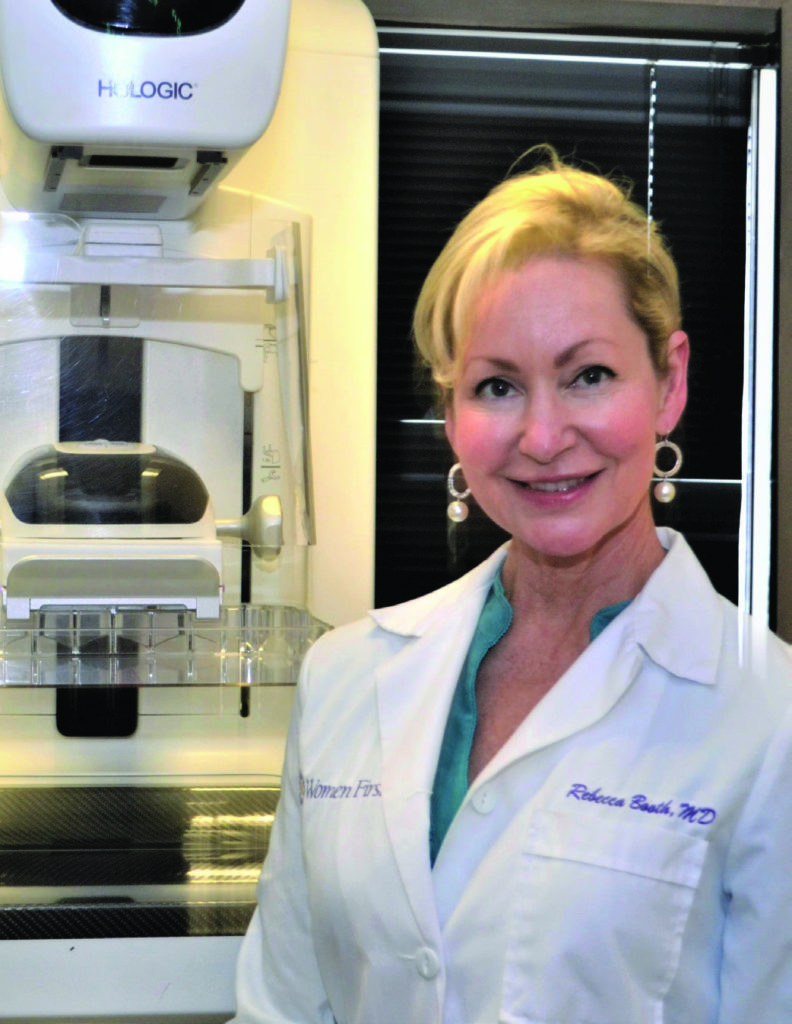 LOUISVILLE When Women First of Louisville opened its doors in 1988, it was one of the first all-woman-run obstetrics and gynecology practices in the area. These days, all-women practices are not unique, but Women First continues to break new ground to meet each woman's care needs.
The Women First 23-member team includes 11 physicians board-certified in OB-GYN, eight nurse practitioners and physician assistants, plus additional clinical and support members. Together, they focus on providing women with comprehensive care in every stage of life.
According to Rebecca Booth, MD, a co-managing partner who recently celebrated 31 years with the practice, Women First strives to use the most advanced technologies and innovative care approaches available.
Their services range from annual health exams and in-office screenings to contraception and pregnancy services, plus numerous surgical and diagnostic procedures.
"We are essentially a convenient one-stop shop," Booth says.
High Tech Mammography
The growth of Women First's mammography and breast cancer screening program is one example of its commitment to innovation. In the early 1990's, Women First was one of the first physician practices to offer in-house mammography. Today they average 14,000 mammograms a year, which exceeds the volume of many facilities solely doing diagnostic imaging. In 2015, the group implemented 3D mammography, also known as tomosynthesis. They added a second machine in 2017. Booth believes they were the first independent OB-GYN practice in the area to offer this advanced technology in-house.
Tomosynthesis uses 3D imaging to look for breast cancers and other tissue abnormalities. Unlike 2D mammography — which takes images only from top-to-bottom and a side-to-side — 3D mammography can move through tissue layers, examine them closely and capture images from multiple angles. Booth considers the detailed tissue delineation 3D mammography provides significant compared to that of conventional mammography.
"It's akin to having a video of the breast that allows you to manipulate and study the image from all angles," she says. "This is critical for the 37 percent of patients who have dense breast tissue, and for other women at increased risk."
Few risks are associated with 3D mammography. It uses essentially the same amount of radiation as conventional mammography. Initially it could be slightly more expensive, but Women First finds most payers now fully cover the advanced scan's cost.
"The added peace of mind this advanced technology offers, and the cost savings it may mean in terms of avoiding repeat testing, are significant," states Booth. She has no definitive answer for now as to whether 3D mammography will replace 2D procedures, however, "It may be just a matter of time before we see that."
Rising to COVID-19 Challenges
This spring, Women First joined other medical practices statewide that shut down as part of Kentucky's COVID-19 response. During this challenging time, their track history of flexibility and innovation proved useful.
Their first step was to form a new clinical committee to define care parameters for high-risk patients based on CDC recommendations. At the same time, telehealth trainings were set up for clinical staff, and telehealth encounters for suitable patients.
Since the practice's mammography work is primarily screening and not diagnostic, most of the breast imaging team was furloughed. Secure work-from-home portals were set up to handle ongoing critical data and results across key areas. Everyone worked together to tackle the huge job of general administrative and billing matters. Phreesia, the specialized patient registration system they use, was vital in facilitating patient intake, messaging, scheduling, insurance processing, and other tasks.
When word came in April that the office could reopen, Women First was able to move quickly. Thanks to countless phone calls, online meetings, and emails, they were ready to implement a social distancing plan built on CDC recommendations.
"Fortunately, our practice's large physical plant gave us adequate real estate for distancing," Booth says, "plus staff from Baptist Hospital East was a big help, taking temperatures on-site before patients entered the building."
By late summer, the practice's mammography volume was close to its pre-COVID level. Yet a troubling concern arose: a number of patients appeared to be putting off their annual breast cancer screenings. "We typically find two incidences of cancer per week, so the question was: Who may have issues that are not being detected?" asks Booth.
This question underscores why helping patients stay on schedule with annual routine health screenings is so key. "Once a habit or pattern is broken, there is a tendency to let it go for good. This is a cautionary tale for all health care providers," says Booth.
Champions for Innovation and Wellness
Working with insurance payers on reimbursement issues can be a tough task for independent practices. Despite this, Women First is passionate about upgrading technologies and adopting new care models to provide patients the best possible care. Their slate of diagnostic procedures and screening services continues to grow. For example, the practice has five ultrasound machines, which support their ability to do same-day diagnostic procedures for pelvic pain or bleeding during pregnancy.
In addition to treatments for first trimester pregnancy loss and urinary incontinence, with a state-of-the-art surgical suite they can perform many minimally invasive procedures once available only in a hospital setting. This includes colposcopy, removal of small skin growths, removal of abnormal cervical cells (LEEP), and endometrial ablations.
On the screening side, they do about 9,000 DEXA scans annually. They see a value in being able to review bone density results in person with patients while they are there for their annual exams.
"We feel our OB-GYN office is uniquely positioned and optimized to look at a woman and her family through a lens of wellness," says Booth.
Their efforts go beyond reproductive care for women and provide a foundation of care for families.
"Most traditional medicine models are founded on care of illness, but in OB-GYN care we are uniquely focused on something that puts Mother Nature on our side, and that's care of the family."
Booth adds with a laugh, "When momma is healthy and happy, everybody's happy in the whole world."