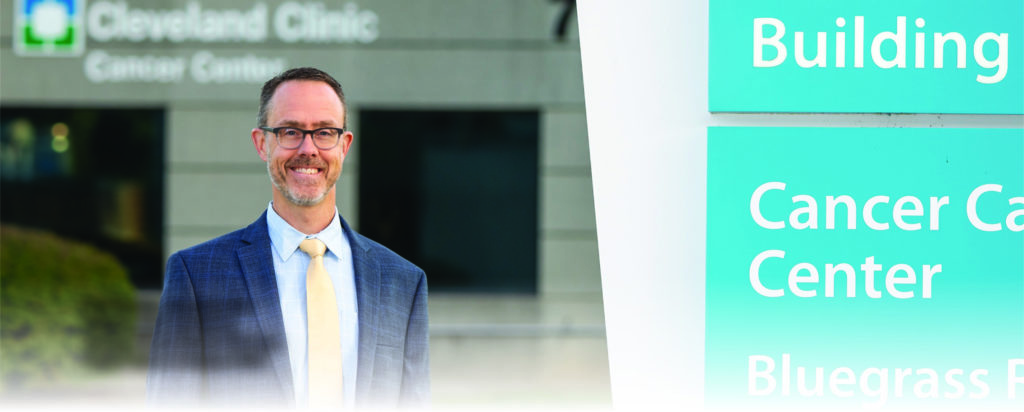 LEXINGTON In October 2019 CHI Saint Joseph Health announced a new affiliation with the Cleveland Clinic Cancer Center. The purpose was to expand access to highly specialized cancer treatments, clinical expertise and research studies for patients in central Kentucky. "Our cancer care centers have a long history of providing high quality care for patients, and we are pleased to enhance that care even further," said Bruce Tassin, CEO, CHI Saint Joseph Health, and president, Saint Joseph Hospital.
Greg Bodager, RN, MSN, OCN, became market director for oncology service lines at CHI Saint Joseph Health in February 2020. His duties include overseeing the Saint Joseph Health oncology operations in Lexington, London, Corbin, Mount Sterling and Flaget Memorial in Bardstown. Bodager says he works with "hospital administrators, nurse navigators, financial navigators, social workers, and any service line the patient encounters in their journey through cancer."
"The needs of a cancer patient and their caregivers are very complex; there's not a single treatment or modality. It requires a coordination of care with surgery, radiation, infusion, and in-patient and outpatient, emotional, social, and spiritual care," says Bodager.
Cleveland Clinic Cancer Center Affiliation
Asking for a second opinion is common in cancer cases to confirm treatment plans. The affiliation with Cleveland Clinic Cancer Center has been "a huge benefit to our patients in Lexington," says Bodager. In addition to being aligned with Cleveland Clinic's best practices, Lexington cancer patients are reviewed by the Cleveland Clinic Cancer Center cancer tumor board and have access to the high level, knowledge-based expertise of their specialists. "It's the best of both worlds," says Bodager. "Many of our patients request a second opinion. They now have access to the specialists of a nationally ranked, top 5 cancer program. Many consults are a confirmation of our existing treatment plans, which gives a level of comfort to the patient and their caregivers," says Bodager.
Even before COVID-19 restrictions, Saint Joseph Health patients were getting virtual consults without having to travel to Cleveland, says Bodager. The ability to participate in clinical trials is another option.
Cancer and COVID-19
"It's always difficult to deal with unknowns, yet that's what we deal with in cancer care, even when there's a confirmed diagnosis," says Bodager. He recalls that the "unknowns increased exponentially" in the spring of 2020 when the pandemic began to make its presence known and felt in the community. It became a very challenging time for his staff, the caregivers and the patients. "Cancer care has a very intimate atmosphere," says Bodager. "We had to limit the contact and the visitors of caregivers and family."
The Saint Joseph cancer centers adopted a double screening process for patients, calling the night before treatment and screening in-person the day of treatment. "We also increased our level of emotional and educational support for the family of the patient," says Bodager.
Saint Joseph Foundation Support
The Saint Joseph Hospital Foundation, headed by president Leslie Buddeke Smart, is highly engaged throughout the hospitals, "especially the cancer centers," says Bodager. The Foundation has raised money for physical plant improvements, such as a complete remodel of the cancer center at Flaget Memorial in Bardstown, diagnostic equipment at Saint Joseph Breast Care in Lexington, and hundreds of free mammograms for uninsured and under-insured women in Kentucky.
The philosophy of Saint Joseph Hospital has always been searching out the sick and marginalized who didn't have a voice, says Bodager. "Saint Joseph's motto, 'Called to serve,' resonates deeply with me. It applies to many situations and all of our staff and patients. It's been a blessing for me over the last nine months to serve with so many people who share the same mission," says Bodager.