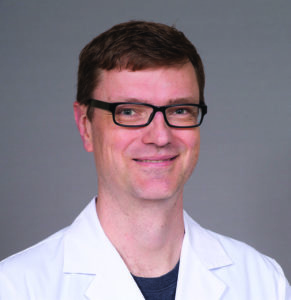 LOUISVILLE Victor van Berkel, MD, PhD, is a self-proclaimed science geek who almost didn't end up a doctor, let alone a thoracic surgeon.
"When I went to medical school, my intent was to focus on the PhD portion rather than the medical," says the Albuquerque, New Mexico, native. "But I found that I really liked taking care of people. I loved the immediacy of see-a-problem, fix-a-problem, and doing stuff with my hands. That was when I started thinking about surgery."
Van Berkel left the high desert and headed to the East Coast, attending the Massachusetts Institute of Technology and double majoring in biology and chemistry. He received his MD and PhD at Washington University in St. Louis, did his general surgery residency back in Boston at Massachusetts General Hospital, then closed out his training by returning to WashU for his thoracic fellowship.
In 2010, van Berkel and his wife, Robin Guillory, MD, moved to Louisville and he joined UofL Health as a thoracic surgeon. He serves under Mark Slaughter, MD, in the Department of Cardiovascular and Thoracic Surgery.
Robin is an anesthesiologist, who runs the cardiac intensive care unit at Jewish Hospital. Shortly after landing in Kentucky, they welcomed a son, Dexter, to the family.
Transitions in Transplants
During van Berkel's time in the Bluegrass, things have evolved with the number of transplants performed and how they are done.
"When I was finishing up my fellowship at Washington University in St. Louis 10 years ago, I found there was a desire to build up the then-fledgling transplant program at Louisville, and I had a lot of interest in doing transplants," he says. "Dr. Mike Bousamra was looking for someone to grow the program. When I met Mike, we really hit it off."
Almost all of van Berkel's work is oncology and lung transplants. While he occasionally sees a patient as young as 18, his typical patient is between 60 and 80; often they've been lifelong smokers.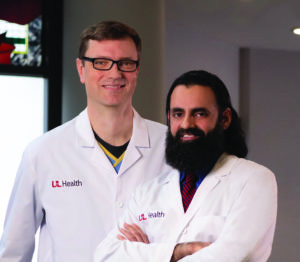 "Those are the patients with the highest risk for developing lung cancer, and lung cancer cases are the vast majority of what I deal with," he says. "Having said that, thoracic surgery covers a wider range, so I see some benign esophageal cases, esophageal cancer, some spinal masses, and an occasional rib malignancy."
During his time at UofL Health, the department has grown, as has its transplant total. A more recent development is the impact idiopathic pulmonary fibrosis—scarring of the lungs that hinders the body's ability to exchange oxygen—has had in increasing the number of lung transplants van Berkel performs.
"It is called idiopathic because we don't really know why it happens," he says. "It can happen to some individuals as early as their 30s and 40s, and it can happen out of the blue. People with it have become the most common patients I perform lung transplants on."
Advances Aid van Berkel's Efforts
Technology has played a key role in advancements over the past decade, with robotic-assisted thoracic surgery being one of the major tools aiding van Berkel. He says UofL Health – UofL Hospital has two daVinci robots and UofL Health – Jewish Hospital recently got one.
The robot makes the procedure much less invasive, which helps both surgeon and patient, and has increased success rates. He says explaining how it works has offered some funny moments, though.
"People ask every once in a while, 'So, you are just sitting in the corner drinking a cup of coffee while the robot is doing its thing?' and I have to say, 'No, you are thinking about the wrong kind of robot. This is more like the claw machine at the amusement park than it is like R2-D2 or C-3PO.'"
It was another trial, one that was released in 2011, that has made a huge difference in van Berkel's life—and the lives of thoracic surgeons everywhere: CT scanning for lung cancer.
"That was huge," he says. "The data is that about 85 percent of the time someone is diagnosed with lung cancer, they are already Stage 3 or Stage 4. With the advent of lung cancer screening, we can find the cancer early on, and I can cut it out while it's a Stage 1 disease."
The issue hit close to home for van Berkel in 2013 when his father died of lung cancer.
"At first, we thought it was a stroke. But it turned out he had a brain metastasis from a 12-centimeter mass on his lungs—a huge mass. He didn't have a cough, or any pain, and was asymptomatic. He died two and a half months after that, so not very long."
Clinical Trials and Trials with COVID-19
Beyond his surgical duties, van Berkel has his hands in research. He is involved with several clinical trials through the UofL Health – James Graham Brown Cancer Center, the first of which endeavors to identify markers within tumors that will make patients more or less susceptible to chemotherapy.
"I am also working on a project that Dr. Bousamra and I started to identify markers within someone's breath that will allow us to determine if they have lung cancer," he says. "This is a new screening technology we came up with that we patented a couple of years ago. We formed a company to bring this idea to market."
A main focus this year, though, has been COVID-19. Since the disease significantly impacts the lungs, van Berkel has seen a number of COVID patients.
"For the ones who are really sick, a ventilator isn't enough, and the next step is extra-corporeal membrane oxygenation," he says. "It's essentially like being on cardiopulmonary bypass; it's just done peripherally instead of by opening up someone's chest.
"I'm part of a team, but I'm the surgeon who is responsible for that at Jewish Hospital."