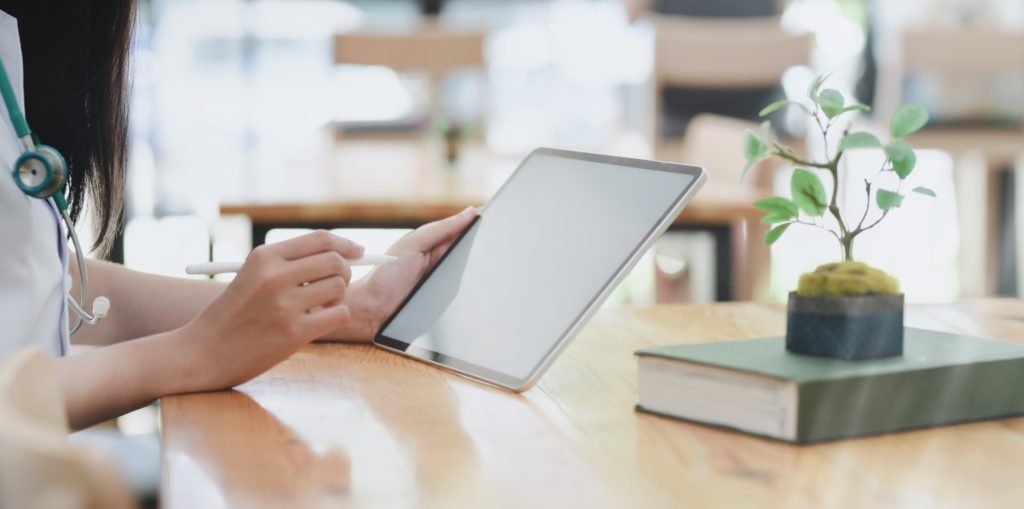 In 2018, Kentucky became one of the first states to authorize physician use of telehealth and to prohibit health plans from excluding coverage of telehealth services. During the 2020 worldwide COVID-19 pandemic, state and federal governments have taken steps to make telehealth services more accessible. However, these changes are temporary during the public health emergency and are subject to revision.
COVID-19 sent both small practices and major health systems looking for methods to allow patients access to healthcare without face-to-face contact. The need for healthcare did not go away, so in response, government agencies modified restrictions on telehealth, at least temporarily. These changes came about so patients would not have to choose between medical care and social distancing. Telehealth is a means to protect patients, doctors, and communities, and is allowing new ways for healthcare providers to communicate with their patients.
Telehealth allows long distance patient and clinician contact, care, advice, education, intervention, and monitoring, therefore avoiding possible transmission of infectious disease. Based on technology, the delivery of telehealth can come within four domains: live (synchronous); store-and-forward (asynchronous); remote patient monitoring; and mobile health. Unfortunately, Kentucky's original telehealth laws made practicing telemedicine cumbersome and left unanswered questions about treating patients by telehealth across state lines. (See generally, 907 KAR 3:170.)
Kentucky Telehealth Regulation Changes
Now, two years after the Kentucky General Assembly passed one of the more progressive telehealth laws in the nation, (which we reviewed in the Sept. and Dec. 2018 issues of MD-Update), substantial changes in Kentucky have come about during the COVID-19 emergency. On March 6, 2020, Kentucky Governor Andy Beshear announced the first confirmed COVID-19 case in Kentucky and declared a state of emergency to ensure all entities had the necessary response resources (Kentucky Executive Order 2020–2015).
Kentucky took significant action to make telehealth services more widely available by implementing a special emergency regulation, "Kentucky COVID-19 Actions and Guidance Related and Telehealth," in response to the pandemic (907 KAR 300E). In fact, Kentucky now has a "Telehealth Program" – a new state service of the Office of Health Data and Analytics dedicated to assisting telehealth providers by promoting, advocating, and supporting telehealth adoption across the Commonwealth.
Effective March 19, 2020, Kentucky issued guidance as part of 907 KAR 300E that telehealth services may include:
"(a) Those services that are otherwise designated as face-to-face only throughout Title 907 KAR;
(b) The use of equipment, such as a telephone or store-and-forward telehealth including:
(1) Remote patient monitoring, as appropriate; or
(2) Any other telehealth service for which an evidence base exists to justify the safety and efficacy of the service when provided as asynchronous telehealth;
(3) The introduction or expansion of any appropriate telecommunication or electronically mediated health service as activated pursuant to federal law; or
(4) 'Telehealth' or 'telehealth service' or 'telehealth consultation' as it is defined throughout 907 Title KAR, which shall be equivalent to an in-person service or a service requiring physical presence."
These changes broaden access so that patients can receive a wider range of service from their doctors without having to travel to a healthcare facility. However, telehealth raises equity issues because not every family has access to the technology to connect to their healthcare providers. Telehealth requires a strong, reliable broadband connection. As broadband infrastructure improves, telehealth may also become more widely feasible. Unfortunately, many families in Kentucky do not have adequate internet access in their homes. Many also lack the necessary equipment to access telehealth service such as a laptop, tablet, or smartphone.
The new 2020 policy changes allow use of a variety of private electronic devices and applications for communications. Privacy rules were revised to let people use familiar web video services rather than only medical-specific video sites, but this comes with a possible risk to patient information.
The doctor must decide whether telehealth is appropriate for the patient's health needs on a case-by-case basis. As an example, telehealth may apply to the following:
Wellness visits;
Prescription medication;
Nutrition counseling;
Mental health counseling; and
Other conditions.
However, healthcare providers still need to examine patients in person or be in the same room with the patient for certain medical complaints and types of healthcare appointments.
Telehealth Advantages and Challenges
Virtual visits have advantages and disadvantages. Telehealth enables timely and flexible care to patients wherever they may be; but it also presents threats to privacy, medical licensing, and reimbursement. Telehealth may not be a substitute for in-person care or physically examining a patient but may offer a supplemental connection for patients to providers. Routine medical practice over the internet can result in faster diagnosis and treatment, increase the efficiency of care and reduce patient stress. Moreover, patients avoid travel and waiting rooms; caregivers can easily participate; and several doctors in different locations can talk to the same patient at once. Telehealth goals include:
Increasing access for patients;
Increasing outreach for providers;
Reducing costs;
Improving health outcomes;
Monitoring patients' health status;
Educating patients and providers; and
Monitoring the patient's daily activities
For years, government restrictions limited telehealth. For example, reimbursement for in-person visits was traditionally higher than telehealth. Moreover some telehealth services could only be provided to "established" patients, not new ones. Another limitation on telehealth has been that typically, doctors are prohibited from treating patients in states where they are not licensed. Licensure laws in the United States require a healthcare practitioner to be licensed in both states to deliver telehealth care across state lines. In Kentucky, the governor's emergency executive order provides for an "Emergency System Application." A national accreditation process or multi-state licensure compacts could be a solution, but methods vary.
Expanded Coverage: Temporary or Permanent?
The pandemic has pushed both government and commercial health insurers to make telemedicine financially workable, at least temporarily. In early March 2020, CMS and Kentucky Medicaid expanded coverage for telemedicine visits for Medicaid, Medicare, and Children's Health Insurance Program (CHIP) beneficiaries. The CARES Act also temporarily relaxed rules so that Health Savings Account (HSA) health plans may cover telehealth and remote care services.
The goal was to allow more people to be treated remotely by a healthcare provider without the risk of exposure to COVID-19 at a medical provider's office, clinic, or hospital.
Will there be a permanent relaxation of telehealth regulations allowing reimbursement of telehealth on the same level with in-office visits and raising payments for audio-only visits; or, once the national emergency is lifted, will all new payments for telehealth disappear?
It is uncertain if these temporary measurers will be maintained. However, some of the changes being made during the pandemic may be sustained long after it is over. Many healthcare providers argue that continuing telehealth may be useful for those with chronic conditions who have higher risk of infection when they go to a hospital, allowing those patients' conditions to be managed safely from their home. Telehealth may also bridge the gap where there is lack of transportation and mobility. The past six months underscore the need for updated regulations, guidelines, and legislation to reflect the current and future trends of healthcare practices. Technology-based healthcare may become an integrated option of the future.