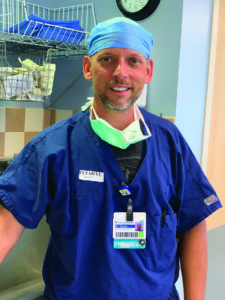 BARDSTOWN Mark Duber, DO, finds the greatest satisfaction as an orthopedic surgeon comes from being able to repair patients, thus restoring their ability to pursue their passions. "The thing I like about orthopedics is that I'm actually fixing something, and that to me has a very high personal satisfaction. I can go into a surgery day, and someone has an ACL tear, for example. And, I fix that ACL tear and can leave that day knowing that I did a great job, I fixed someone's knee, and I'm going to get them back to that activity that's important to them," states Duber, who specializes in sports medicine and joint replacement at Flaget Memorial Hospital.
Duber attended medical school at Kirksville College of Osteopathic Medicine in Kirksville, Missouri. He credits his osteopathic training, which takes a unique "whole-person" approach involving advanced classes with hands-on manipulation, with instilling a physical confidence in exam skills.
After graduating from medical school, Duber completed his residency in orthopedic surgery at the esteemed Cleveland Clinic in Cleveland, Ohio. His interest in orthopedics stems from his being a fitness enthusiast and athlete. According to Duber, "Being healthy and being active is very important to me. And, basically, the majority of what we do in orthopedics is trying to return someone to a state where they can be active, whether that's a sports injury or a joint replacement. Getting someone back to being active is important to them, but that's also something that's important to me, personally."
As a participant in the United States Army's Health Professions Scholarship Program, Duber followed his medical education with active duty, serving as a chief orthopedic surgeon at Fort Knox, treating troops and their families. Throughout 2011, he was deployed to the Forward Operating Base Fenty in Jalalabad, Afghanistan. His wife, Melissa Duber, DO, an emergency medicine doctor, was also a major in the U.S. Army.
Keeping It Local
At Flaget, Duber's focus is three-fold, with 40% of his practice consisting of sports medicine, 30% being general orthopedics, and the additional 30% involving joint replacement.
With six high schools in close proximity, growing the sports medicine aspect of Flaget's orthopedic department was one of Duber's main goals. According to Duber, "A lot of the surgery that was being done on those athletes was going to Louisville. It wasn't staying local, because there was really no sports medicine-trained physician able to keep them in Bardstown. In my practice now, I am basically the team physician for six high schools."
It is in the joint replacement realm, however, where Duber has witnessed the most significant changes: with computer navigation, more minimally-invasive techniques, and high durability materials. The primary replacements Duber performs are shoulder, anterior hip, computer-navigated total knee, and complex knee revisions. Innovations in each have led to vast improvements.
For knee replacement and revision, Duber utilizes the Stryker computer navigation system, which decreases surgical time as well as making the procedure significantly more accurate. In the words of Duber, "Computer navigation is giving us more information to do better surgery. And, the better surgeons we can be, the better we're going to do for that patient to give them a better outcome."
In addition to better techniques, the upgraded materials used for joint prosthesis have extraordinary endurance. Duber says, "We're telling people if a knee implant is put in appropriately, and they are an average size and average activity patient, that knee could potentially last thirty years, which is a significant increase from what it was fifteen years ago."
Anterior Approach Is Preferred
The process of hip replacement has also seen major progress. Duber now exclusively uses the anterior approach performed under x-ray, which offers multiple benefits. Patients can expect less pain and quicker recovery. Surgeons receive increased information, allowing them to negate many potential complications, especially mispositioning the implant, which is the number one reason for dislocation after hip replacement.
With proper placement, the new ceramic ball and high-density polyethylene cup used in today's arthroplasty can last four decades. Duber states, "Hip replacements in general, with the ceramics we use, can last forty years. So, when it comes down to a hip, if someone is in dire pain with severe arthritis in their mid-to late fifties, it's better for them to have that surgery done at that point if they're having that much disability."
Across orthopedics, less pain, more gain is the new philosophy. In closing, Duber emphasizes that, with today's advances, orthopedic surgery should not be reserved just for the elderly. He states, "Now, with the technologies we have and durability of materials, it's much easier to perform surgeries earlier in life to help get someone out of disability and pain, knowing that surgery will likely last them for the rest of their life."