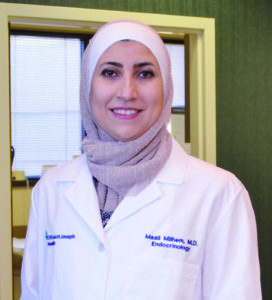 LEXINGTON With more and more people developing diabetes at younger and younger ages, statistics across the nation show the disease is progressing. Fortunately, the ability to test, track, and treat both type 1 and type 2 is advancing, as well. As an endocrinologist whose primary interest is in diabetes, Maali Milhem, MD, is committed to incorporating innovations into traditional care. "I love endocrinology and I love dealing with challenging cases like diabetes," says Milhem, who is currently a physician with the CHI Saint Joseph Medical Group.
Originally from Jordan, Milhem earned her medical degree from Jordan University of Science & Technology School of Medicine. She then completed her internal medicine residency at the Jordan University Science & Technology, King Abdullah University Hospital. Eleven years ago, Milhem moved to the U.S. where she finished a second residency in internal medicine and a fellowship in endocrinology at Marshall University's Joan Edwards School of Medicine in Marshall, West Virginia. Prior to coming to CHI Saint Joseph Medical Group, Milhem, who is board certified by the American Board of Internal Medicine in endocrinology, diabetes, and metabolism, was with Pikeville Medical Center, where her husband Mohamad Khasawneh, MD, is an oncologist.
With both West Virginia and Kentucky ranking in the top 10 for diabetes nationwide, Milhem realizes how critical it is to bring the latest technological and pharmacological breakthroughs in the field back to our region. She recently attended the Endocrine Update 2020 conference hosted by the Mayo Clinic in San Juan, Puerto Rico.
"I believe we should treat patients like we treat our family and we should respect their opinions and their feelings about their disease."— Maali Milhem, MD
Advances in Technology
One of the biggest diabetes upgrades is in monitoring. According to Milhem, "We have many technologies these days, including many types of sensors or what we call CGM. Some you only change every fourteen days. They connect through Bluetooth and go automatically to your device, so you can look at your blood glucose readings at any time. And, it saves the patient from pricking their finger."
Prior, the only method for patients to get an accurate blood sugar reading at home was through a drop of blood to a blood glucose meter. Now, individuals have the option of a continuous glucose monitoring (CGM) system, which uses a small sensor wire inserted under the skin to measure glucose in the interstitial fluid. The sensor sends the information to a transmitter where it can be viewed or downloaded to a smart device. CGMs record levels throughout the day and night, send alerts when glucose levels are unacceptable, and can be linked to a sensor-augmented insulin pump. Information can also be shared with parents, children, spouses, or caretakers via FDA-approved smartphone apps.
Insulin pumps have also seen vast improvements. Milhem stated, "We have insulin pumps that change the insulin amount given to the patient based on sensing the blood glucose of the patient, so the doctor doesn't have to make as many changes in the insulin setting." In addition to being able to communicate with meters and self-adjust dosage based on transmitted data, many pumps are tubeless, smaller and sleeker, can hold more insulin, and can be updated remotely.
Oral Treatments for the Diabetic Patient
There are also several alternative oral medications of which Milhem is a proponent. She stated, "I believe that before starting insulin in certain patients who have A1C < 10%, we should try medications first to promote weight loss to try to control their diabetes if they have no contraindications." Last fall, the FDA approved the first noninjectable (oral) GLP-1 receptor agonist for the treatment of type 2 diabetes. GLP-1 induces satiety, resulting in weight loss, while increasing insulin secretion.
But, because diabetes is a self-manageable disease, proper education is still key. Therefore, CHI Saint Joseph Health also offers a Diabetes Self-Management Training (DSMT) program with classes in meal planning, movement, medications, and monitoring to help adults with both type 1 and type 2 diabetes.
Additional Areas of Interest
Aside from diabetes, a large part of Milhem's daily practice involves the treatment of adrenal, pituitary, and thyroid diseases, as well as osteoporosis.
Within her field, Milhem often sees two common misconceptions among primary care physicians. First, in the referral of thyroid cancer Milhem says, "Some primary physicians continue to follow up thyroid cancer patients without following ATA guidelines, and sometimes they send these patient too late or send them to an oncologist. I prefer all patients with thyroid cancer be treated fully by an endocrinologist."
And, secondly, in the necessity of treatment for osteoporosis. Milhem explained, "Patients with osteopenia should be evaluated for fracture risk, and patients who have high fracture risk considered osteoporotic and treated just like if they have osteoporosis. Also anyone with atraumatic hip fracture needs to be treated for osteoporosis even if the patient has normal bone density scan."
With all the choices and changes, it is perhaps more important than ever to include the patient in the decision-making process. Milhem says, "I believe we should treat patients like we treat our family and we should respect their opinions and their feelings about their disease. I always talk to the patient and give them options, and make sure that they know what to expect from the decision they make."