LOUISVILLE Brent Duncan, MD, a Louisville native and fifth generation physician, is a welcome sight around West Louisville. The doctor rarely wears a lab coat when he prac-tices. He speaks in a reassuring tone and gives every patient ample time to describe their symptoms. Duncan says, "Patients have to be comfortable enough with me to share their experiences. The doctor-patient relationship can only grow through two-way trust."
Medical Education and Training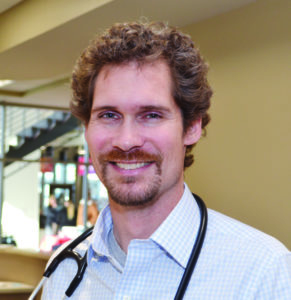 Duncan started his undergraduate studies in Birmingham, Alabama, at Samford University, where he met his wife, Jenn. He returned to Kentucky to study medicine at the University of Louisville.
At first, he gravitated to pediatrics, which led him to a pediatrics rotation in Kenya. He realized that while he enjoyed working with children, he didn't want to limit himself to one age group. When Duncan returned from Kenya, he canceled the pediatric residencies he had applied for and dedicated himself to family medicine and completed his family medicine residency in 2011 at South Carolina's Spartanburg Regional Hospital.
Shawnee Christian Healthcare Center
His Kenya pediatrics location pivoted Duncan's career in another way besides urging him to treat a broad age range. His experiences also reinforced his passion for medical missions.
Duncan wanted to create a practice right at home in Louisville, but not in affluent areas that overflowed with care providers. In the meantime, now-retired cardiologist David Dageforde, MD, and a board were about to embark on a project to help the underserved West Louisville area. Their practice would be the Shawnee Christian Healthcare Center which began with Dageforde and a nurse practitioner. Duncan joined just two months later after completing his medical residency.
Poverty impacts everyday life in West Louisville; the community receives slower mail delivery and limited access to transportation. They have less healthy food at their disposal. The area also lacks the high-quality healthcare of burgeoning downtown and East Louisville areas.
Duncan and his family lived in the Shawnee neighborhood, in West Louisville, where he rode his bike to and from work. He explains, "I got to know the people well and experienced what their life looks like firsthand. I made it clear that I wasn't trying to change everyone here. Instead, we became students of their culture and community, and every day proved an eye-opening experience."
Norton Community Medical Associates and YMCA
After seven years of fulfilling but exhausting days at Shawnee, Duncan sought a practice with an improved work-life balance, but he refused to leave the community he loved. He found an answer in Norton's newest family care clinic, Norton Community Medical Associates – West Broadway, which opened in December 2019. Dr. Eugene Giles, MD, and his staff joined the clinic this January. The doctors serve all age groups and perform disciplines ranging from women's health to minor surgeries to urgent care.
"Maybe health is the biggest problem for our patients when they first enter our practice, but it's usually only the first step." Duncan speaks of many instances in which he saw patients improve their health, obtaining a higher-paying job soon after, and eventually buying cars and homes. He stresses the importance of meeting patients where they are. "If my mentally ill patient is hallucinating too much to understand their blood pressure medication instructions, I won't be able to help them until that's resolved."
As an integrated care clinic, Norton makes sure its behavioral health care extends to everyone who needs it. The clinic proves its practice-wide commitment to modern technology by serving their behavioral health patients with tele-psychiatry options so that they can call in and receive necessary mental health treatment, even if they don't have reliable transportation.
Duncan also works with Family & Children's Place, housed inside the new YMCA building, which provides counseling for families and children affected by or at risk for abuse. In fact, many beloved Shawnee patients saw Duncan again at the YMCA and soon resumed care with him at the Norton office.
Common Misconceptions
Duncan regrets to admit that primary care physicians often get overlooked in the world of healthcare, which grows increasingly specialist-driven. He describes family care practitioners as the base of a care network, comparing specialists to the spokes radiating from a wheel: "We have more time to troubleshoot than specialists and develop the trust we need to direct them to the right team," he explains.
Future of Care
Though the clinic recently opened, patients have already praised the care quality and operational efficiency, and Duncan predicts a bright future ahead. "Much like what we're doing now, I foresee an ever-increasing focus on integrated health. I expect that patients will work more closely with psychiatrists and other behavioral health specialists and connect the dots between physical and mental issues."
He also forecasts more patients entering the practice, and with a greater population, a broader illness spectrum. Consequently, Norton Community Medical Associates – West Broadway will need to expand with tools like a dedicated specialist rotation and legal aides.
"Our goal is to care for people in every aspect of life," he concludes. "At our practice, we not only notice what this community's patients need; we actually ask, and then act accordingly."